Kansas University junior linebacker Huldon Tharp is playing for his third set of football coaches in four seasons ... but who's counting?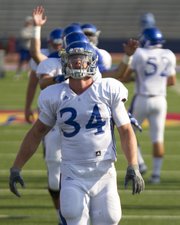 Not the 6-foot, 225-pound linebacker from Mulvane, who earned freshman All-America honors under Mark Mangino in 2009, red-shirted one year, played a year under Turner Gill and now has two seasons remaining with Charlie Weis.
"Most definitely," Tharp said, asked if he's enjoying learning under a coaching staff that includes former NFL coaches Weis, Dave Campo and DeMontie Cross, as well as former NFL players Tim Grunhard and Ron Powlus.
"We've got Super Bowl rings on our staff now. As a kid, you see these guys on TV. It's pretty humbling to have a chance to learn from some all-time greats," Tharp added.
Tharp — he started seven games and had 59 tackles for Mangino as a freshman then had to red-shirt his true sophomore season and play sparingly last season following foot surgery — now is in the process of trying to impress Weis, defensive coordinator Campo and linebackers coach Cross.
"You've got to have that attitude anytime there's a new change or anytime coming off injuries," Tharp said. "More than anything you are hungry to prove yourself and get out on the field. More than anything I want to help out coach Cross, do my job for him, do my job for the defense, help the team out as much as I can."
Campo sees some good things in Tharp, who had a career-high 13 tackles against Nebraska in 2009.
"I can't speak to what happened before. I know he was a pretty good player his first year out (of high school)," Campo said. "I think obviously he feels better, is more healthy. Something happened where he didn't get much playing time, whether it was injury or whatever. If he stays healthy, he's a good football player."
Tharp said his left foot feels fine, the only sign of his surgery a scar on top of his foot.
"It's pretty gnarly looking. It feels good now. I really don't notice it anymore," Tharp said. "Coming off the foot injury, I am feeling good right now and excited about this season."
Tharp — he mainly played on special teams last year — has put on 12 pounds since the end of the 2011 season.
"Taking on blocks ... when you've got that extra weight, it's that much easier," Tharp said. "Strength-wise I know I increased most of my lifts by 40 pounds or so. That always helps you out."
He said his speed hasn't been negatively affected by the weight gain.
"I mean coach Holsopple (Scott, strength coach) ... he is extremely smart with what he does. It's not just all about weight training, gaining weight and strength. We were doing speed training all through the summer and winter, too. You've got both sides of the spectrum you are working on. They kind of go hand in hand. My speed has increased with my strength."
He said the added weight has helped his confidence.
"It's huge," Tharp said. "If you know you are feeling good, you don't have anything in the back of your mind that is going to hold you back, so it helps you play to the best of your abilities."
As far as how much he'll play this year ... Tharp has taken to heart linebacker coach Cross' comment that there is a "floating depth chart" this season. A player can vault from back-up status at the start of August camp to major contributor in a hurry.
"I feel I am playing a lot better than I was in the spring. That's all I can ask from myself is keep getting better," Tharp said. "I think I'm putting myself in good position to have an impact on this team.
"Individual accolades are not a huge deal to me," he added, acknowledging it was "pretty humbling" to earn frosh All-America honors. "Above all I want to win games. Since I've been a freshman, I haven't had a winning season here. Above all I want to win games and get to a bowl game."
Copyright 2018 The Lawrence Journal-World. All rights reserved. This material may not be published, broadcast, rewritten or redistributed. We strive to uphold our values for every story published.