Behind Kansas University's effort to raise $1.2 billion in private funds is the KU Endowment Association, an independent fundraising foundation for the university that has been in operation since 1891.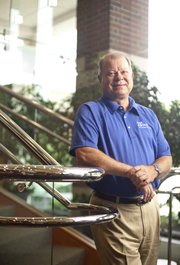 The association's last publicly released information, on June 30, 2011, put its market value of endowed funds at $1.25 billion, an increase of 22.8 percent over the previous year.
Using those funds, the association was able to provide support for the university's four campuses and KU Hospital in the amount of $112.3 million in direct financial support in the 2011 fiscal year.
The funds supported students, programs, research, faculty, facilities and patient care, according to a release at the time.
The association's value, however, isn't just in its endowed funds. Dale Seuferling, president of KU Endowment, said the association has significant land holdings throughout the state, some of which are used for research purposes (such as the KU Field Station north of the Lawrence airport) and some of which are farmland, typically given to the association as part of a donor's estate.
Rosita McCoy, senior vice president for communications and marketing, said the association owns 45,000 acres of land altogether.
Over the last five years, they have generated between $3 million and $4 million in income, mostly through gifts of agricultural properties to the university.
"The agricultural income from the land supports whatever the donor establishes," Seuferling said. "It's a form of diversification."
About 160 full-time employees, eight part-time employees and a number of student callers work at KU Endowment, housed at 1891 Constant Ave. on KU's West Campus. A KU Medical Center office is at 4125 Rainbow Blvd. in Kansas City, Kan
The private giving secured through KU Endowment through the years has provided for a number of different KU buildings, including the World War II Memorial Campanile, the Spencer Museum of Art and the Lied Center of Kansas.
Copyright 2018 The Lawrence Journal-World. All rights reserved. This material may not be published, broadcast, rewritten or redistributed. We strive to uphold our values for every story published.