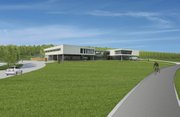 Matt McClorey likes almost everything about the label that has been applied to the Kansas University Bioscience and Technology Business Center that he leads from KU's West Campus.
These days, the new facility often is touted as "the largest business incubator program in the state of Kansas and one of the largest in the Midwest."
McClorey, the CEO of the facility, has plenty of numbers to back up the claim. The program has more than 70,000 square feet of space — with three buildings in Lawrence and one near the Kansas University Medical Center in Kansas City, Kan. More than 20 companies call the incubator system home, and about 100 high-tech employees have been added to the local economy as a result.
Perhaps most noteworthy of all is that the program's crown jewel — a 21,000-square-foot laboratory and office building on West Campus — was fully leased after 16 months, which is nearly four times faster than leaders had projected.
But there's one part about the label that McClorey isn't crazy about: The word incubator. It connotes a place where only small companies come to grow. McClorey said that's not the case with the KU project. Already, the center has attracted Garmin, ADM and insurance giant Assurant Employee Benefits.
"Incubator really is not the right word," McClorey said. "It is a center for doing business and commerce on KU's West Campus. We're staying true to the original business plan, which is we don't want to be so narrow that we are just doing startup companies. We want wins for the city of Lawrence.
"We definitely want to work with large companies that want to collaborate with KU."
What has been surprising to economic development leaders is how interested several Fortune 500-type companies have been in the project.
"When we started this, I don't think we understood how important geography was in this equation. But we do now," said City Commissioner Mike Dever, who is a member of the Lawrence-Douglas County Bioscience Authority. "Companies really want to be on or close to KU's campus. And as more companies understand the value of being next to students who are learning the newest technology, we're going to see a lot more of it."
The success has leaders with the business center planning for an expansion. Both the city of Lawrence and Douglas County have committed $1 million to help finance a 31,000-square-foot expansion of the office and laboratory building at 2029 Becker Drive, which is across the street from KU's new pharmacy school building.
McClorey still has work to do to raise the remaining money to build the approximately $10 million project. McClorey is in discussions with various KU entities, private investors and other parties, which has him optimistic that funding can be secured to start construction later this year.
"I think there are a lot of people in this community and at the university who want to keep the momentum going," McClorey said.
He said the expansion could possibly accommodate up to 15 new businesses. The expectation also is that existing businesses in the West Campus building will move out and occupy larger space. Making sure those companies stay in Lawrence when they make their moves ultimately will determine how successful this project is, Dever said.
"Having success at the incubator level won't be enough," Dever said. "We have to end up with investments being made out in the community. When we have companies who are started here and end up staying here in Lawrence, when before they would have moved, that is when I'll know we've found success."
One of the three buildings currently in the KU incubator system is a West Lawrence laboratory — the former Oread Labs facility near Bob Billings Parkway and Wakarusa Drive — designed to serve as an "expansion facility" for businesses that outgrow the lab and office space in the West Campus facility.
City leaders also are working to convert the former Farmland Industries property on the east edge of Lawrence into a business park that could accommodate companies that outgrow the expansion facility. But both McClorey and Dever said the community at some point will want to consider creating a full-fledged business and research park that is closer to the Kansas University campus.
"The big value we are offering to companies is the university," McClorey said. "The ability to collaborate and develop long-term relationships with KU is the driver for many of these companies."
And Dever said he's confident the community finally has hit upon the right partnership to sustain the effort to attract companies for years to come. The incubator project has brought together, the city, the county, the university, the Lawrence Chamber of Commerce, the local bioscience authority and the state bioscience authority. It also has empowered McClorey — who has helped area companies raise more than $180 million in capital since 2002 — to aggressively sell the community.
"We have people marketing this venture who really understand the business," Dever said. "I think that is really what has happened. We have energetic leadership, and we have a great product to offer. That combination usually results in success in almost anything you do."
Copyright 2018 The Lawrence Journal-World. All rights reserved. This material may not be published, broadcast, rewritten or redistributed. We strive to uphold our values for every story published.