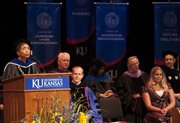 It would be hard for even a freshman to miss the two points stressed at Kansas University's 147th convocation ceremony: participation and graduation.
KU students nearly filled the Lied Center on Sunday night to see Chancellor Bernadette Gray-Little and KU faculty formally open the 2012 school year.
"We have high expectations for you, starting with the expectation that our undergraduates will graduate in four years and that our graduate students will also graduate on time," Gray-Little said to the crowd. "There are many distractions at a university, some of them even worthwhile. But your primary goal should be to earn your degrees so that you can walk down the hill as graduates."
In her speech, Gray-Little stressed the importance of utilizing the opportunities the university has to offer as well as adding to the KU community.
"Our university is a community of scholars. It is a gathering of people who are all here because they want to learn and explore," she said. "You share this common bond with each other. But our community is vibrant and diverse because you also bring your own identity and pieces of your own communities to KU."
John Griffin, a freshman from Dallas, got the point.
"I should come into the school and strive to contribute to make myself better and to make my school better," he said, explaining what he gained from the speech.
While the tone of the chancellor's speech was relatively serious and reflected KU's emphasis on improved retention and graduation rates, the ceremony did have brief light moments.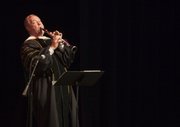 Robert Walzel, dean of the school of music, did not give a speech but played a lengthy clarinet concerto weaving back and forth on stage in full academic dress. The performance drew possibly the loudest applause of the night.
Gray-Little said that Walzel's performance showed that you could pursue scholarship in any field that interested you, including music.
The evening ended with the crowd linking arms, bringing together the student body in a rendition of the alma mater, followed by the KU fight song, to begin the new year.
"We're eager to teach — and learn from — you, and can't wait to see all that you are going to accomplish here, and as KU graduates. Welcome to your university, Jayhawks," Gray-Little concluded.
Copyright 2018 The Lawrence Journal-World. All rights reserved. This material may not be published, broadcast, rewritten or redistributed. We strive to uphold our values for every story published.