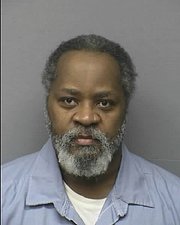 The Kansas Prison Review Board has denied parole for Sherman L. Galloway — convicted in two 1981 Lawrence rapes — according to Department of Corrections spokesman Jeremy Barclay.
In 1984, Galloway was sentenced to 30 years to life in prison. But because of sentencing laws, he became eligible for a parole hearing in 1996 and has been eligible several times since.
The board passed Galloway for seven years, meaning he won't be eligible for parole again until 2019.
Former Lawrence resident Jean Rhea was a Kansas University student when she was attacked by Galloway in 1981 on the KU campus. Rhea has helped organized a group of community members who have addressed the board in opposition to Galloway's release several times since 1996.
Rhea had asked the board to pass Galloway for the maximum amount of time — 10 years. However, she said in an email, "I, my family and our community are very happy with this decision."
Galloway is currently housed at Lansing Correctional Facility.
Copyright 2018 The Lawrence Journal-World. All rights reserved. This material may not be published, broadcast, rewritten or redistributed. We strive to uphold our values for every story published.