An accident at Ninth and Tennessee streets Wednesday night held up traffic slightly but resulted in no serious injuries, Lawrence Police Sgt. Craig Shanks said.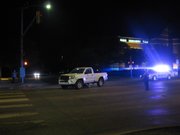 At about 9:15 p.m., a woman driving a Ford Mustang ran a red light at the intersection, Shanks said, and hit a white pickup truck headed west on Ninth. Medical crews were initially called to the scene, and it was believed the driver of the Mustang would need to be extricated from the car, but fire crews were able to get her out. She and the driver of the truck had minor injuries and declined medical treatment at the scene.
Copyright 2017 The Lawrence Journal-World. All rights reserved. This material may not be published, broadcast, rewritten or redistributed. We strive to uphold our values for every story published.