Lawrence High's girls soccer team can't catch a break.
With a list of injured starters that won't stop growing, the last thing the Lions wanted to see Tuesday night was one of the Sunflower League's powerhouses, undefeated Olathe East, get off the bus in the LHS parking lot.
The Hawks at least were merciful enough to deliver their beating and get out of town in a hurry. O-East invoked the mercy rule in the 10th minute of the second half to seal a 10-0 lashing.
Already without injured starters senior Meredith Warinner, juniors Kirsten McKay and Abby Wilson and sophomores Addison Campbell and AnnaKate Kleibohmer, LHS at least entered the evening happy to have starting freshman defender Karissa Aldrich back in the lineup after missing time with a concussion.
Even that didn't last. Less than six minutes into the home game, on the day Aldrich had been cleared to play, she was injured again and had to be helped off the field. She did not return.
The seemingly non-stop injuries have gotten to the point, junior defender Ella Magerl said, that the Lions don't know how to react.
"I think that just kind of gets into our heads," she said.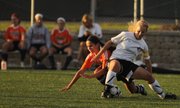 Senior defender Lauren Fleming, sporting soccer ball imprints on her left leg, just above bags of ice on her knee and ankle, said after the loss the Lions are trying not to get angry with themselves or frustrated as injuries and losses — seven straight — mount.
"The toughest part," Fleming said, "is not letting it bring us down and staying positive."
Those tasks became even tougher against O-East (9-0), which got three goals from Kirstyn Corder and two apiece from Lauren Zach, Sophia Bachman and Natalie Wolfe in the first half before Ashley Morefield ended the game with her goal in the 50th minute.
Fleming said LHS allowed the Hawks to take control.
"We have to keep our heads up and not give up," she said. "We started giving up in the first half, and we allowed them nine goals. That's not good, obviously."
Magerl said the Lions (1-7) will have to find a way to recover mentally.
"It's a bad defeat, but we have to remember it's one game," she said. "After tonight, it's over with, and we can't dwell on the game. We have to just move on and still stay together as a team and not let it get us down."
The 10-goal loss, first-year coach Janna Kepler said, was just the latest chapter in a brutal stretch for LHS.
"We play in a tough conference," Kepler said. "Traditionally, Lawrence High has been a weaker opponent in that conference. It's going to be a long time to build the program. We're trying to work on the skills that we need to in order to build the program, but when six starters go down, it's hard to see any progress being made."
Kepler has been forced to play underclassmen more than expected, and she said they have responded well, as have the seniors who are playing for their third coach in three years.
"It's hard to build a program when it's constantly changing," Kepler said.
At 7 p.m. Thursday, LHS plays at Shawnee Mission South.
Copyright 2018 The Lawrence Journal-World. All rights reserved. This material may not be published, broadcast, rewritten or redistributed. We strive to uphold our values for every story published.