Lawrence High's girls swimming team got everything it wanted Tuesday out of its final home meet of the season.
The checklist of accomplishments included winning on Senior Night, doing so in dominating fashion, setting new personal records and getting a successful return from injury out of the Lions' top diver.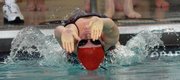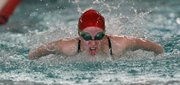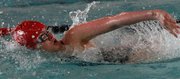 LHS won 11 of the 12 events. Sophomore Annie Odrowski, who won the 200- and 500-yard freestyle races, and junior Miranda Rohn, who swam to first-place finishes in the 200 IM and 100 free, said a motivating factor was helping seniors MacKenzie Rhoades and Sierra Wilkens close their home careers in style.
"It was Senior Night," Odrowski said, "and we really love the seniors, so we just wanted to go out there and swim well and have a great last home meet."
The Lions also picked up individual victories from junior Heather Cistola in the 50 free and 100 back, plus two more wins from sophomore Gretchen Frick in the 100 fly and 100 breast.
Coach Kent McDonald said one of the afternoon's highlights was watching sophomore diver Allison Williams take first place. She hit her foot so hard on the board during a dive the previous week it was feared she might have broken toes. Williams had been unable to practice, but came out and scored 195.55 in one-meter diving, winning by more than 40 points.
Cistola, Odrowski, Rohn and Frick combined to win the 200 medley relay to kick-start the meet, which ended with a twist. McDonald split up his 400 free A-team for the finale.
"I didn't know how good Topeka would be," the coach said. "I figured we'd shoot for first and second."
That's what they got, too. The LHS team of Rohn, Rhoades, Madison Ruder and Cistola edged teammates Odrowski, Chandler McElhaney, Nicole Oblon and Frick by seven-hundredths of a second.
It wasn't the only close finish for the Lions. Rohn experienced some drama in the 100 free, as she held off Topeka's Alex Millhuff by .32 seconds.
"When there's another person right there, it gives me more incentive to want to win," the junior said, noting she dropped a second off her previous personal record by finishing in 56.86.
Both Rohn and Odrowski mentioned another accomplishment among the meet's high points. That came in the 50 free, when McElhaney broke the 30-second mark for the first time. She tied teammate Hannah Lee for seventh with a 29.91 finish.
Said Odrowski: "I know how much that meant to her."
There was a lot of love to go around on such a successful day.
"This is the first time in a while we've had a really good team," Rohn said. "It's just a great environment."
McDonald said it was important for Lawrence to keep improving, and winning was a lot more fun than the alternative.
"I think we kind of needed to have a good showing," the coach said. "We're getting to a point where we have two more meets, then we go into league."
At 3:30 p.m. Friday, LHS will compete at Free State.
Copyright 2018 The Lawrence Journal-World. All rights reserved. This material may not be published, broadcast, rewritten or redistributed. We strive to uphold our values for every story published.