Some nights on the diamond are rough enough to make baseball seem a little more like football.
That's how Lawrence High baseball coach Brad Stoll felt, anyway, after the Lions got clocked by Shawnee Mission Northwest, 17-12, at home Tuesday.
Stoll couldn't get an old quote from former Ohio State football coach Woody Hayes out of his head.
"There's nothing that cleanses the soul like getting the hell kicked out of you," Hayes once said.
Added Stoll: "I'd say we're pretty clean after tonight."
Photo Gallery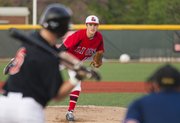 LHS baseball vs. SM Northwest
The Cougars (3-1) not only pounded LHS pitchers Adam Rea, Devin Garcia and Cameron Solko for 17 hits, but they made the most of the Lions' six errors. Four of those LHS miscues came in the top of the second inning, when SMNW sent 13 batters to the plate and scored eight runs off of four hits and two walks, securing what proved to be an insurmountable 11-2 lead.
It was a brutal stretch.
"We pitched to the letters and got hammered," Stoll said. "We just did some things that are very uncharacteristic. And that's on me. They're not ready to play, so I'll take the blame on that one."
Suffering through such a long, unsuccessful inning, senior LHS center fielder CJ Roush said, really brought the players down.
"But good teams find a way to battle back," Roush said, "and hopefully by the end of the season we can be one of those teams."
Lawrence (3-3) did respond with a pair of runs in the second and plated three more in the third, when Roush drove in two runs with a triple down the right-field line before scoring on a botched relay.
After SMNW scored three in the third, the Lions trailed 14-6 before they put together two scoreless innings in the fourth and fifth. But even a brief return to normalcy in the field didn't do much good, because LHS couldn't score in the bottom of either inning, and SMNW put three more runs on the board in the sixth to extend its ever-growing lead to 17-6.
"All we wanted to do was stop the bleeding as soon as possible," Roush said. "We did that for a couple innings, but then they scored again. We just couldn't get out of our hole."
The Lions managed to score three runs in both the sixth and seventh innings — Matthew Sutliffe had an RBI-double in the sixth and Trevor Champagne singled to score Roush in the seventh — but it was just enough to avoid losing by the 10-run rule, not enough for a comeback.
Although SMNW coach Richard Kuzydym told Stoll after the game that LHS is a good team, and Stoll agreed with him, the Lions' coach said they can't give up eight runs in an inning and expect to be successful.
"If we choose not to learn from this, we're gonna be in a lot of trouble," Stoll said, describing himself as neither worried nor happy. "But this is a pretty resilient bunch of kids, man. And I got a lot of confidence in them."
At 5:30 p.m. Thursday, Lawrence plays at Olathe South.
Copyright 2018 The Lawrence Journal-World. All rights reserved. This material may not be published, broadcast, rewritten or redistributed. We strive to uphold our values for every story published.