Photo Gallery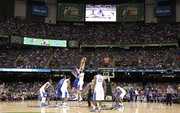 Kansas v. Kentucky (National Championship)
Photo Gallery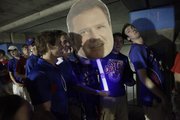 Pre-game outside the Superdome
KU and Kentucky fans gather at the Superdome and take shelter in the underground parking during a storm before the NCAA Men's Basketball Championship game, Monday, April 2, 2012.
Photo Gallery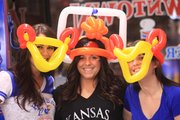 Highs and lows: Jayhawk fans watch the game in Lawrence
Press Conferences & Post-Game Interviews
Kentucky coach John Calipari and players
Kentucky coach John Calipari and players Michael Kidd-Gilchrist, Doron Lamb, Anthony Davis, Terrence Jones and Darius Miller talk to reporters following the Wildcats' 67-59 victory over Kansas on April 2, 2012, in the national championship game in New Orleans.
Press Conferences & Post-Game Interviews
Bill Self, Tyshawn Taylor and Thomas Robinson
Kansas coach Bill Self, guard Tyshawn Taylor and forward Thomas Robinson talk to reporters following the Jayhawks' 67-59 loss to Kentucky on April 2, 2012, in the national championship game in New Orleans.
New Orleans — Kansas University junior Thomas Robinson, who is expected to be a top-five pick in the 2012 NBA Draft, obviously played his last game as a Kansas Jayhawk on Monday night.
Juniors Elijah Johnson and Jeff Withey, however, indicated they'll definitely return for their senior seasons.
"I'll let him make the announcement," coach Bill Self said after the 6-foot-10 junior Robinson went out with 18 points and 17 boards in a 67-59 national title loss to Kentucky in the Superdome. "I'd be shocked (if he came back)."
Robinson said "obviously" when asked if he had a decision to make. He added "no" when asked if he knew what the decision would be.
Noted Elijah Johnson about his roommate: "I'd be stupid in my head to think Thomas would be back. It's all over, man, it's over," he added, indicating he felt so sorry his buddy came out on the losing end.
Withey, who had five points and four blocks, said: "I'm coming back. That's the plan."
Johnson, who had 13 points, said of returning as senior floor general: "I'm definitely thinking about next year already. I plan on taking a couple weeks off, then getting in the gym. I plan on getting to work and not sleeping a lot."
Case loves Jayhawks: Jeremy Case, a backup guard on KU's 2008 NCAA title team, said the 2011-12 team's march to the title game was awe-inspiring.
"I'm a little nervous, but more just happy and proud they made it here," Case, assistant coach at Southeast Missouri State, said before the game. "They've played great. I'm really pulling for the guys to win it all."
He realized KU entered as a heavy underdog versus Kentucky.
"They've got seven NBA players on that team," Case said of the Wildcats.
'Keef' proud: Markieff Morris of the Phoenix Suns ribbed his NBA teammate, Michael Redd, formerly of Ohio State, after the Jayhawks' Final Four semifinal victory over the Buckeyes on Saturday.
"Of course (I did)," Morris told arizonasports.com. "He just keeps saying 'You know, we should've won that game.' I don't know nothing. I'm going off what I watched."
Of the Jayhawks' run, Morris said: "I had my shot last year. I was there with all those guys that are there now. I know what they're capable of. I knew this year would be a good year for them. I was happy for those guys. They fought hard."
Faces in crowd: KU football coach Charlie Weis attended, as did former KU basketball players Chase Buford, Nick Bradford, Jeff Graves, Greg Gurley, Clyde Lovellette, Xavier Henry, Christian Moody, Moulaye Niang, Dave Robisch, Bud Stallworth, Stephen Vinson and Wayne Simien.
Interesting comments on Twitter leading up to game: From former KU guard Josh Selby: "Rock chalk do I need to say more????"
Former KU guard Rex Walters: "Who do you think the Walters Boys are rooting for tonight?"
Also from the San Francisco Dons coach ... "Sooooooo Happy!!!!!! Rock Chalk Jayhawk!!!! Wave the wheat!!!!!" Walters wrote after the semifinal win over Ohio State.
Former KU forward Marcus Morris: "We gonna shock the world!!! KU we all we got!!!" Also ... "Since I have a game I'm gonna miss the championship :(." And another: "Thomas Robinson is the next Chris Webber."
Former KU guard Nick Bradford: "I think my son is confused today, his mama's from Kentucky and prob will have him m some UK gear but n his heart he knows the deal KU haha!"
Former KU forward Nick Collison: "Jayhawks have had an incredible year.Overachieved the whole time. Coach Self &staff; have done a great job & the guys have really stepped up"
Former KU forward Paul Pierce: "Here we go KU , UK lets do it JayHawk nation bring em on"
Also from Pierce, "I need to go put Rondo in a headlock right now to let him kno what it's gonna be like tomorrow Rock Chalk."
Return: KU officials said the Jayhawks were to leave New Orleans for the flight home at 5 p.m. today. A welcome home at Allen Fieldhouse will be approximately 7 p.m. Doors open at 6:30 p.m.
Bonuses: USA Today pointed out in Monday's editions that a national title would mean $350,000 to UK coach John Calipari, $200,000 to KU coach Bill Self via contract incentives. Calipari received $400,000 in bonuses for winning the Southeastern Conference regular-season championship and advancing to the NCAA Tournament Round of 16, Round of Eight and Final Four. The $750,000 in performance incentives would move his earnings for the season to more than $6.1 million. Self received $200,000 for winning the Big 12 regular-season championship and reaching the Final Four. The $350,000 in incentives for winning it all would have moved his season earnings to more than $3.9 million.
Copyright 2018 The Lawrence Journal-World. All rights reserved. This material may not be published, broadcast, rewritten or redistributed. We strive to uphold our values for every story published.