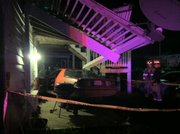 Ernie Bone couldn't sleep, so he settled down in his living room at Gazebo Apartments with a video game. Little did he know that he would see something straight out of "Grand Theft Auto" on his doorstep shortly before 1 a.m.
"All of a sudden I heard a screech. I looked outside and I heard a thud. Next thing I know there's a car sitting at the front door," Bone said.
An 18-year-old Lawrence man, who was the vehicle's lone occupant, was driving northbound in a 1985 Chevy Camaro on Melrose Lane and took the curve west on to West 24th Terrace when he "did not negotiate the turn into the driveway," said Lawrence Police Sgt. Susan Hadl. The car jumped the curb and came crashing into Bone's apartment building on the 2400 block of the street.
Hadl said the driver reported that the vehicle's throttle stuck open and caused him to accelerate while making the turn. The man also reported to police that the car belonged to a friend.
The upper deck of the building was destroyed and the wall of lower level was damaged.
"The first thing I was thinking was just that I'm glad it didn't come in through the front way, because I would have probably been hurt or killed," said Bone, who lives there with his roommate. Neither were injured and the upper-level apartment was unoccupied.
The driver was transported to Lawrence Memorial Hospital with minor injuries, where he refused treatment, Hadl said. Police are investigating the possibility of alcohol being involved.
An estimate of damage to the building was unavailable early Tuesday morning.
Copyright 2018 The Lawrence Journal-World. All rights reserved. This material may not be published, broadcast, rewritten or redistributed. We strive to uphold our values for every story published.