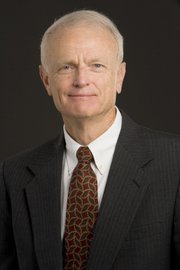 A professor who teaches taxation in Kansas University's School of Business and a KU Medical Center professor whose research looks for ways to repair damaged livers are the recipients of the 2011 Chancellors Club awards for teaching and research.
Allen Ford is a distinguished professor in the business school's accounting area and has been on the KU faculty since 1976.
Ford said he was extremely pleased to receive the award for teaching that recognizes achievement during his entire career.
"To be one that's selected for this, I'm still taking it in," he said, adding that there are many great teachers at KU. "I'm extremely pleased and extremely flattered."
O. Maurice Joy, a colleague who nominated him, said in a release that Ford is a rare professor who "blows the top off the charts in both popularity and rigor."
Joy also pointed out that Ford teaches tax accounting courses, which "are not for the fainthearted," he said.
"I think taxes are very interesting," Ford said. "They've said there are only two things that are certain, and that's death and taxes."
Among the two, he said, he'd rather talk about the taxes.
Hartmut Jaeschke, a professor and researcher in KUMC's department of pharmacology, toxicology and therapeutics, earned the award for research. Jaeschke, who grew up in Germany, has taught at KU since 2006.
His research focuses on liver damage from various pharmaceuticals, including acetaminophen, the active ingredient in several painkillers and one of the most commonly used drugs in the country.
"Dr. Jaeschke's early work has become the foundation of our understanding of acute inflammatory liver injury, and his current research continues at the leading edge in his field," said Alex Lentsch, vice chairman for research at the University of Cincinnati College of Medicine, in a prepared statement. "He has demonstrated scientific excellence and leadership, and he positively represents the University of Kansas on national and international stages."
Lentsch was among the people who nominated Jaeschke.
Each honor comes with a $9,000 award. The awards are provided through the KU Endowment Association.
Copyright 2018 The Lawrence Journal-World. All rights reserved. This material may not be published, broadcast, rewritten or redistributed. We strive to uphold our values for every story published.