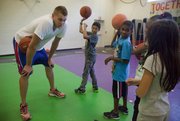 Oklahoma City Thunder power forward Nick Collison — who set numerous screens on offense and guarded some of the NBA's biggest bruisers on defense last season — plans on turning back the clock to his high-scoring college days Saturday afternoon in Allen Fieldhouse.
"I am going to try to shoot every time I can touch it because I don't get a lot of touches during the season for sure," joked the 6-foot-10, 255-pound, eight-year NBA veteran. He left Kansas University in 2003 as second-leading point producer in school history.
Collison — he scored both inside and outside while earning first-team All-America honors at KU — is looking forward to the 4 p.m. Legends of the Phog exhibition, which will include 12 of KU's 14 NBA players and some other past KU greats as well.
"It probably won't be as competitive as a playoff game for sure," said Collison. He averaged 4.6 points and 4.5 rebounds in 71 regular-season games last season. He averaged 6.7 points and 5.8 boards in 17 playoff games for the Thunder, who lost to Dallas in the Western Conference finals in seven games.
"Usually when you get that many guys on the court who are competitive, I'd imagine it would get a little competitive at some point in the game," he added.
Those confirmed to play include Collison and Cole Aldrich of the Thunder, plus Darrell Arthur (Memphis), Mario Chalmers (Miami), Xavier Henry (Memphis), Darnell Jackson (Sacramento), Marcus Morris (Houston), Markieff Morris (Phoenix), Paul Pierce (Boston), Brandon Rush (Indiana), Josh Selby (Memphis) and Julian Wright (Toronto).
"I think it'll be fun," said Collison, who, along with Aldrich taught fundamentals to youths Tuesday at the Boys and Girls Club of East Heights. They tipped off the Lawrence-edition of FitClub34, former KU player Pierce's program to encourage physical fitness among youths.
"I think it's a really good idea to try to get everybody together (Saturday). I think it'll be fun for the fans to see some old faces, some older than others. I'm one of the really old guys now, which seems strange to me. Time flies," added Collison, who turns 31 on Oct. 26.
"Coach (Bill) Self is doing a really good thing for his program. I think it'll be really fun for the players to see everybody, too."
Collison said he's in good physical condition.
"I work out every day. It's my job. It's not a 9 to 5 but I put in a lot of time," Collison said. "This time of year is the time we are usually in Oklahoma City getting ready for the season. Obviously we are not now. We are trying to find out what is going to happen with the (NBA) lockout, find out when we are going to be able to start. The players are ready to play. The players want to play. We are ready to go. That's what we do. I hope it comes to a resolution soon."
Collison has spent a lot of time in Lawrence this summer. He's competed in some pick-up games with the current Jayhawks.
"I think Tyshawn (Taylor) looks good to me. Elijah (Johnson) looks good to me. T-Rob (Thomas Robinson) looks good," Collison said. "They are going to have some talent. The young guys can play.
"They have a lot of new faces. I've only played a couple days, but they all look like they can play a little bit. They are not going to have maybe the marquee scorers that they've had the last few years or we've had for a long time, so I'd imagine defensively they are going to have to be really good to play. They are built for that.
"They have a lot of good athletes and Bill Self ... defense is always at the front of their game plan. I think they are going to have to be a tough defensive team to have some success this year."
It's unlikely a lot of defense will be played Saturday in Allen. One might expect the exhibition to more resemble an NBA all-star game or the McDonald's All-America game.
"I was able to play an NBA preseason game here when I was with the Seattle Sonics," Collison said. "It was a lot of fun coming back being able to play a game. This will probably be better because it'll be much more relaxed atmosphere. There will be less to worry about."
The former Jayhawks want to put on a show for the fans, who sold out the fieldhouse in 13 days.
"I was a little surprised at how quickly it went just for an exhibition game," Collison said. "Kansas fans are great, probably a little hungry for basketball. We've got so much great support here. The current guys will continue to get that support. It makes it a really great place to play. It makes the program really special. It's a really elite program because of the fans."
Collison on realignment
Collison has been following the Big 12 realignment situation in the media.
"It's a lot of unknown out there right now. I don't think anybody knows what is going to happen," Collison said. "I just hope KU is able to be in a situation that will allow them to be competitive long term and not be at a disadvantage and not be left out of the situation where it's harder for us to compete because we're not in one of the big conferences. Really I am a little concerned about it. I think most people are. Nobody knows what is going to happen. I hope it shakes out well for us."
Copyright 2018 The Lawrence Journal-World. All rights reserved. This material may not be published, broadcast, rewritten or redistributed. We strive to uphold our values for every story published.