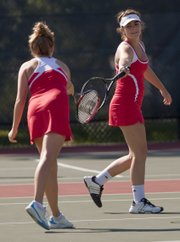 Several weeks into the season, Lawrence High's tennis team is still trying to find where each player ranks.
Coach Chris Marshall is doing a lot of mixing and matching on the roster so that girls play at different spots in different meets. It's his way of learning about his team while making it better.
"From where we started — not winning a singles match at the beginning of the season — we've come a long way," Marshall said.
At Monday's quad at the Lawrence Tennis Center, the Lions' only victories came from freshmen Kendall Pritchard and Chloe Clement in their respective singles matches.
Clement played two matches at different ranks, which demonstrated how the undefined roster affects players. Playing as the No. 1 singles player, she was up 5-2 in the first match against Shawnee Mission Northwest's No. 1, Carley Olson. Olson came back and won the match, 8-6.
In her next singles match, Clement played as the No. 2 singles player and beat Blue Valley West's No. 2 player, 8-0.
"I got down on myself after the first game, and so I just turned around and came in positive," Clement said. "I think that made a difference, and I took each point one at a time."
Finding lessons in defeat, Clement said that girls who play the top players on opposing teams are getting better. That also makes it harder to keep a consistent roster.
"Spots are changing because people are improving," Clement said.
The Lions are gradually improving, Marshall said, but it's hard to show when they play against experienced competition, such as on Monday. But that competition will ultimately show how good they will become.
"The quality of your opponent will determine a lot of your success," Marshall said.
Overall, LHS finished behind the other three schools: Shawnee Mission West, Shawnee Mission Northwest and Blue Valley West. It was the second consecutive Monday match for the Lions, and Marshall would prefer to play another day.
"I just don't like Mondays," he said.
The team normally practices during the week, preparing for the event. Then the weekend comes, people lose focus and anything can happen, Marshall said. The best time for matches is Tuesday to Thursday.
"But this is the schedule I inherited, and this is what I have to make work," Marshall said, "so we do what we can."
LHS will play host to Manhattan High at 3 p.m. Thursday.
Copyright 2018 The Lawrence Journal-World. All rights reserved. This material may not be published, broadcast, rewritten or redistributed. We strive to uphold our values for every story published.