Photo Gallery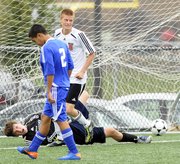 Lawrence High boys soccer vs. Junction City
Lawrence High's soccer team blanked Junction City, 5-0, on Saturday at the Lions' field.
Gavin Fischer, Robert Lyan, Johannes Reiber, Justin Riley and Zach Wustefeld scored for LHS (2-2-1).
Riley's goal came off a shot from 30 yards out, into the upper corner of the net for the Lions.
Tanner Click had two saves in goal. In all, the Lions had 25 shots on goal.
Lawrence High will meet Olathe Northwest on Monday in Olathe.
Copyright 2018 The Lawrence Journal-World. All rights reserved. This material may not be published, broadcast, rewritten or redistributed. We strive to uphold our values for every story published.