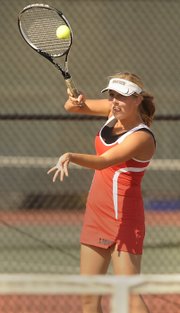 The Lawrence High girls tennis team won two of three matches at its home quad on Monday.
The Lions defeated both Topeka West and Topeka High, 3-1, while dropping a 4-0 decision to Washburn Rural.
"We're striving to get better," LHS coach Chris Marshall said. "As long as we're doing that, I'm happy."
Against Topeka West, LHS No. 2 singles player Zoe Schneider (8-0) came up with a victory, along with the No. 1 doubles team of Taylor Eubanks-Abby Gillam (8-2) and the No. 2 doubles team of Haley Ryan-Katie Gaches (8-7, 7-3).
No. 1 singles player Chloe Clement (8-4) posted a win against Topeka High, along with Schneider (6-1) at No. 2 singles and Eubanks-Gillam (8-7, 7-3) at No. 1 doubles.
"We could have played better," Marshall said, "but we held together and fought, and the girls won some close matches against them."
LHS will travel to a Topeka High tournament on Wednesday.
Copyright 2018 The Lawrence Journal-World. All rights reserved. This material may not be published, broadcast, rewritten or redistributed. We strive to uphold our values for every story published.