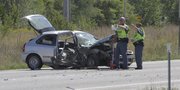 A 9-month-old Lawrence boy was flown to Children's Mercy Hospital Monday afternoon after a three-vehicle accident on the South Lawrence Trafficway just west of Lawrence.
Douglas County Undersheriff Steve Hornberger said Nole Outcalt was injured after a southbound car driven by his father, Seth Outcalt, 31, crossed the center line and struck two other vehicles. The accident happened at 1:30 p.m. Nole was flown to the Kansas City, Mo., hospital via a Life Star helicopter ambulance, and the accident caused the SLT to be shut down between Clinton Parkway and Sixth Street. Authorities reopened the highway later Monday afternoon.
Hornberger said the Honda car Outcalt was driving swerved into the northbound lane near North 1500 Road where it struck a Ford F-250 pickup truck, bounced off and then hit a Ford van. Both Ford vehicles were headed north on the SLT, which is also Kansas Highway 10 west of Lawrence. Outcalt was taken to Lawrence Memorial Hospital and was treated and released. Lawrence-Douglas County Fire Medical workers extricated him from the car.
The drivers of the two other vehicles, Bradley Rockhold, 38, of Ottawa, and Jason Leggitt, 30, of Berryton, were not injured, Hornberger said.
Sheriff's officers were still investigating contributing factors for the crash and would complete an accident report in coming days, he said.
Copyright 2017 The Lawrence Journal-World. All rights reserved. This material may not be published, broadcast, rewritten or redistributed. We strive to uphold our values for every story published.