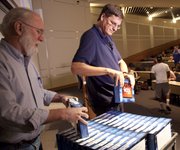 On the street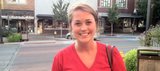 Wine from my mom three weeks ago.
A Google vice president surprised Kansas University engineering students enrolled in an introductory programming course by handing out a new Android-based tablet computer to each of them on Monday morning.
Brian McClendon, a 1986 electrical engineering graduate from KU, and his wife, Beth Ellyn, donated $50,000 to KU to provide the Motorola Xoom tablets for the 89 students enrolled in the required Programming I class on Monday.
He told the students that the future of the industry lay with mobile applications.
"The client that everybody uses is on the phone," he said, and Google and other companies are increasingly looking to see what kinds of mobile applications potential employees have developed.
The devices have applications in all kinds of industries, too, he said, even outside of the electrical engineering and programming world.
"I think you can be a part of that now," McClendon told the students.
The tablets will be incorporated into the curriculum, but the students will be encouraged to use them for their enjoyment as well.
"I have until 2 to play with it," said Amanda Parks, a freshman from Kansas City, Kan., who said her next class didn't start until then. "I'm going to head to lunch and then just go to town and see what's on here."
The students will be allowed to keep the tablets provided they receive at least a C in the introductory programming course, complete both Programming I and Programming II, and remain in the electrical engineering and computer science major.
Students enrolling in the spring course will receive the tablet as well.
Brian Potetz, an assistant professor of electrical engineering and computer science, teaches one of the Programming I sections this year.
He told students that mobile computing had revolutionized the way people interact with computers and how they interact with one another.
"It was just a short time ago that these sorts of innovations were the work of science fiction," Potetz said.
The class will begin programming using the tablets right away, he said.
McClendon, who serves as a member of the engineering school's advisory board, proposed the idea in April, and faculty members have been working to move the course content in a new direction while the plan was kept secret from students so they could be surprised on Monday.
Mason Aye, a freshman from Tonganoxie, said he had an interest in programming small games and applications for his career, so the news came as a welcome surprise to him.
"I didn't come to class expecting to get a free computer," he said.
Copyright 2018 The Lawrence Journal-World. All rights reserved. This material may not be published, broadcast, rewritten or redistributed. We strive to uphold our values for every story published.