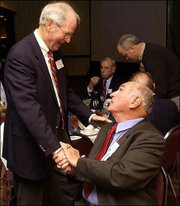 Former Kansas University basketball coach Ted Owens was heartbroken Saturday after learning that former KU football coach Don Fambrough — his friend of 51 years — had died at the age of 88.
"Don Fambrough is the best representative of the University of Kansas that I have ever known," Owens, 82, said Sunday from his home in Tulsa, Okla. "He loved the university. He devoted his adult life to it. He had such an incredible passion for KU, and he was such a good man. When I think back of Don, I have a smile on my face. He spent his life doing what he loved, and I don't see anybody who could be more loved than he is by his players."
Owens will be in Lawrence on Friday for Fambrough's memorial service, set for 1 p.m. at First Christian Church. Private inurnment will be at Pioneer Cemetery. Family will greet friends at the church after the service.
"When I first arrived at KU as coach (Dick) Harp's assistant in 1960, coach Fambrough was on Jack Mitchell's staff. We became great friends," Owens said. "One of the privileges we had was we would play bridge once a month on a Sunday night with all the assistant football coaches. We became fast friends with all of them, and on Sunday night, when we'd meet, they'd already had the scouting report in preparation for the upcoming game. It was so much fun to hear them talking and planning for the next opponent."
Owens was KU basketball coach from 1964 to '83, which encompassed both of Fambrough's tenures as head coach — 1971 to 74 and '79-82.
"One of the big thrills I had was sitting in the stadium when we beat Missouri. It was kind of us or Missouri for a bowl game. I can't remember which one," Owens said. "Anyway, the students tore the goalposts down, and we got invited to the bowl right after the game. That was one of his finest moments. We were all thrilled, too."
Owens said he'd always try to help Fambrough in his recruitment of football players, and 'Fam' would help Owens in his pursuit of basketball talent.
"John Riggins tells the story of when he came to visit. Junior (Riggins) was already there (at KU). They brought John and his mom to my office," Owens recalled. "I said, 'With the Riggins boys, we're going to start a dynasty here.' John said his mother left the office and said, 'Dynasty ... that will be good for my Scrabble,'" Owens added with a laugh.
"I always knew I had a friend in Don. I could drop over to talk to him any time."
Owens last saw Fambrough at a K-Club golf outing last year.
"I went over and hugged him. He's special," said Owens, who, when visiting Lawrence, wanders by the bench overlooking Memorial Stadium, which was dedicated to Fambrough in 2007.
"He joked that they usually do that when a person is dead," Owens said with a laugh, of honoring somebody with a landmark. "We'll miss him greatly. He had such a wonderful life."
Fambrough married Del Few on October 4, 1941 in Austin, Texas. She preceded him in death on November 17, 2001. Survivors include a son, Bob Fambrough of Lawrence, a son and daughter-in-law Preston and Ginny Fambrough of Baldwin City, four grandchildren (Jay Fambrough, Francesca Fambrough, Veronica Shallcross and Rose Fambrough), and one great granddaughter, Cora Shallcross.
The family suggests memorials in his name to the Lawrence School Foundation for the Don & Del Fambrough Scholarship Fund or to the Douglas County Visiting Nurses, Rehabilitation and Hospice Care and may be sent in care of the Warren-McElwain Mortuary in Lawrence.
Copyright 2018 The Lawrence Journal-World. All rights reserved. This material may not be published, broadcast, rewritten or redistributed. We strive to uphold our values for every story published.