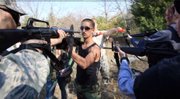 A masked, armed man sneaks between parked cars, edging closer and closer to the unit's base. A civilian, not quite sure what is going on either, speaks loudly and aggressively in broken Arabic. Another bounces a basketball, his movements jerky and erratic as he, too, gets closer to the precious base.
"Contact forward! Contact right!" soldiers in street clothes, barely out of the their first few semesters, yell as they pull up and aim rifles. It's the code that they've seen someone — you can never be sure if "someone" is friendly or not. It's a warning that a stranger is approaching.
It's all simulation, of course. And not even a greatly sophisticated simulation at that — the "base" is a parking lot, the civilians are older cadets — but it gets the about 40 Air Force ROTC members who participated on Saturday thinking.
Cadet Nick Brunkhorst organized much of the event, which simulated interaction with hostile and noncombative "locals," an ambush of one group and the rescue of a downed pilot in enemy territory.
"We're trying to see how they'll react under pressure," Brunkhorst said. "So we try to make it as realistic as possible."
The Air Force ROTC students perform the exercise once per semester. The goal is to be authentic and to show the newest cadets the realities of the program.
"Airmen aren't just in the air anymore," Brunkhorst said.
Cadet Tyler Underwood, who also helped lead the exercise, said after the event that most did extremely well, especially given their knowledge and skill base. No one but the cadets playing the combatants knew the entire scenario beforehand.
"It was definitely a learning experience," Underwood said.
Copyright 2018 The Lawrence Journal-World. All rights reserved. This material may not be published, broadcast, rewritten or redistributed. We strive to uphold our values for every story published.