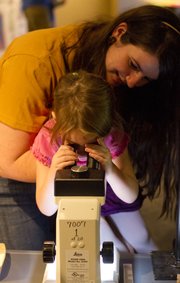 The Kansas University Natural History Museum displayed dozens of fossils on Sunday and offered amateur fossil hunters a chance to identify their finds.
The event, "What on Earth? Rocks, Fossils and Meteorites," gave visitors the chance to learn about the museum's collection, as well as which fossils they could expect to find in the area.
"The Natural History Museum is here to serve the public," said Jen Humphrey, communications director at the museum. "They can learn not all fossils are dinosaurs."
Indeed, there was much more to see than dinosaurs. The event had several display tables dedicated to different species of plants, insects, mammals and even sea monsters.
One of the tables featured fossils found in the Kansas River, bones of ancient elk, bison and beaver. These extinct ancestors were far bigger than their present-day descendants; the archaic beaver would have been over four feet long with five-inch teeth.
David Burnham, a paleontologist at the KU Biodiversity Institute, talked with visitors and showed off the institute's newest addition: a dinosaur skull found in Montana, still encased in rock and wrapped in a plaster jacket.
"It comes as a giant 600-pound plaster boulder," Burnham said. He is now in the process of extracting the skull from the stone.
The event also showcased smaller fossils from around the area. Andrew Bireta, 12, brought a box of fossils he found near Kansas Highway 10, east of Eudora, to be identified. They included plants and small clams from more than 300 million years ago.
Dozens of people came to the museum, 1345 Jayhawk Blvd., to learn from the institute's researchers and KU graduate students.
"If people have any questions, they're always welcome to bring it to our lab," said Carla Harper, a graduate student from Del Rio, Texas. "We really support that."
Humphrey said the museum periodically holds events to educate the public. She also said it was a great chance to showcase the institute's vast collection, which includes more than 9 million specimens.
Copyright 2018 The Lawrence Journal-World. All rights reserved. This material may not be published, broadcast, rewritten or redistributed. We strive to uphold our values for every story published.