On the street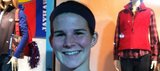 No. I think that's kind of immature.
Throughout high school, Omaha, Neb., native Tim Biere knew very little about the Sunflower Showdown between Kansas University and Kansas State.
He cared even less.
That all changed when Biere committed to KU and joined the Jayhawks in the summer of 2008. Right away, and without searching for it, Biere learned the importance of the rivalry.
"If you're down on Mass Street and you walk by some stores and you see some things for K-State fans in the window, you're just like, 'Who would ever buy that in the city of Lawrence?'" Biere said. "It doesn't really bother me, but it's kind of startling."
Biere's not alone in thinking that way, but his feelings toward the KU-KSU football game, which is set to kick off its 109th edition at 11 a.m. today at Memorial Stadium, have evolved a great deal since he first arrived on campus. Although his first taste of the game is now a blur, Biere said he'd always remember his second.
"We went into Manhattan, and that's when I saw that they truly hated KU," he said. "They were pretty wild, and their student section's right behind the bench, so that kind of made it grow for me a little bit."
For so many players — there are 52 native Kansans on K-State's roster and 24 on KU's — the Sunflower Showdown is something they've grown up hearing about. Towns are divided, families bleed the color of their chosen school and everyone has an opinion on gameday. In the past, some of KU's most talented players were Kansans. That's not so much the case anymore. Although the Jayhawks still have their share of key in-state prospects, the biggest names at the most visible positions come from other states.
All four captains are out-of-staters, including Biere, two from Texas (Jeremiah Hatch and Toben Opurum) and defensive leader Steven Johnson, who hails from Pennsylvania. Quarterback Jordan Webb is from Missouri, as are two of KU's talented running backs, Brandon Bourbon (Potosi) and Darrian Miller (Blue Springs). Leading rusher James Sims also is from the Lone Star State.
Just five of KU's starters — and 12 players on the two-deep depth chart — are from Kansas, which means that, at one point or another, this whole Sunflower Showdown thing was new to 77 percent of the Jayhawks who play most of the snaps.
"I really didn't know too much about it when I came here," said Webb, of Union, Mo. "I heard about it when I was getting recruited, how it was always one of the biggest games of the year, but you really don't understand it until you've played in it."
Johnson, a two-year starter who played mostly on special teams during his first two seasons, said his familiarity with rivalries, in general, helped him prepare for this one.
"I kind of just got into it right away," he said. "The tempo gets picked up, people are hitting harder, but that's the game, and you have to adjust."
Even KU coach Turner Gill is fairly new to the in-state battle. Although he was familiar with both KU and K-State from his days as a player and coach at Nebraska, Gill said he now knows enough about the Sunflower Showdown to realize it has a different feel than other games.
"We're ready for this one. It's one of those things that gets me excited and makes (me) want to play. As a former player, you want to throw on a uniform."
Ultimately, it's momentum and bragging rights that make the players want to show up. That seems especially true for the team that most recently came out on the losing end, as the Jayhawks did a year ago.
"That one was not fun," said Johnson of last year's 59-7 loss to KSU. "It was posted on the walls, and you could see how bad it really was. That's not acceptable for this program, so I'm going to do the best that I can to get myself ready and get my teammates ready to prevent that from happening again."
Copyright 2018 The Lawrence Journal-World. All rights reserved. This material may not be published, broadcast, rewritten or redistributed. We strive to uphold our values for every story published.