Photo Gallery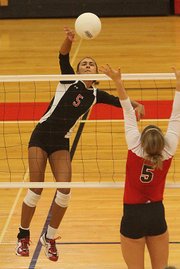 LHS volleyball home quad
Every year, no matter what the circumstance, Lawrence High volleyball coach Stephanie Magnuson holds her team to the expectation that it can make it to state.
"On any given day, any team can come out on top," she said.
LHS went 1-2 in a home quad Tuesday, beating Emporia, 25-16, 25-18, and losing to St. James Academy, 25-12, 25-10, and Blue Valley North, 25-18, 25-23.
The Lions (12-21) will have to correct their flaws quickly before sub-state Saturday.
Tuesday's matches — a win, a loss and close sets not finished — were indicative of Lawrence's up-and-down season. Magnuson and Caitlin Broadwell both said communication on the court is the biggest problem.
"I think our team has all the skill, and we definitely have the potential," Broadwell said. "But I don't know, maybe it's just how young we are."
Broadwell, who had a team-high 15 kills, said there are a lot of mental mistakes that are easy to fix. She said the younger players might need another year to gel.
And though the season hasn't played out the way the Lions would have liked, they will still get their chance in the sub-state tournament.
"Hopefully this weekend we'll get over this slump we're on and start winning, because that's when it counts," Broadwell said.
Brea May had a team-high 37 assists in Tuesday's quad, Zoe Reed had a team-high 20 digs, and Monica Howard had 14 digs and 12 kills. In the final match of the evening, LHS led BVN most of the way until the very end, when the Mustangs swiped the lead — and the match — at the very end.
The on-court communication problems aren't something you can just fix, Magnuson said. The Lions have been close in games, but they need to work on closing those two- and three-point gaps. The only solution, Magnuson said, is for girls to work through their dynamic personalities and set an open line of interaction on the court.
The coach has trust in them. The team just has to live up to its potential.
"They've got to believe in themselves," Magnuson said.
LHS will end its regular season Thursday, playing host to cross-town rival Free State at 6 p.m.
Copyright 2018 The Lawrence Journal-World. All rights reserved. This material may not be published, broadcast, rewritten or redistributed. We strive to uphold our values for every story published.