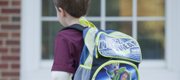 Subscribe to the email edition of First Bell and we'll deliver you the latest local education news and notes every weekday at noon.
As a Lawrence police officer for nearly 18 years, Laurie Scott has seen plenty of kids who need help, in all kinds of situations.
Now, as a school resource officer this year at West Middle School, she sees the issues up close and personal each and every working day.
"Like kids who play a sport, but don't have shoes," she said Tuesday, at an event at Capital City Bank downtown.
The occasion: The Lawrence St. Patrick's Day Parade Committee formally naming six charities that will be sharing proceeds in 2012 from the parade and associated events.
Among the charities is the Lawrence Police Blue Santa Program, a new-this-year effort to provide area children and families with toys and food for the Christmas holiday.
Scott is leading the way on the program, one suggested during a meeting with colleagues and now well on its way to reality. The program already has generated $2,000 in funding, from a charity golf tournament conducted by police.
The plan is to provide qualifying families with toys and a $25 card, good for buying food for a holiday meal. Families who apply and meet guidelines, which include living in Lawrence and having at least one child 13 years old or younger, will receive the gifts sometime from 5 p.m. to 9 p.m. Dec. 19-22, during an in-person visit from a uniformed police officer.
Scott welcomes volunteers willing to wrap gifts, or to provide donations of money, wrapping paper, tape, bows and ribbons.
The "Blue Santa" theme isn't a nod to the Grinch, but rather inclusion of the traditional color associated with police everywhere.
"It's just another way to give back to the community," Scott said.
For more information about the program, visit its Facebook page.
•••
Thanks to high marks on reading assessment tests taken last year its by third-graders, New York School received a Certificate of Merit during the ninth-annual Challenge Awards, presented by the Confidence in Kansas Public Education Task Force.
The award honors schools for outstanding achievement and uncommon accomplishment on the assessments and based on other factors, such as the ethnicity and socioeconomic status of students taking the tests.
One of the key factors district officials use to track the socioeconomic status of kids is whether they qualify for free or reduced-price lunches. Qualifying for a free lunch reflects "real poverty," Superintendent Rick Doll said this week.
At New York, 115 students (or 64.8 percent) qualify for receiving free lunches at school, the highest rate among the district's 14 elementary schools. Fifteen students (or 8.2 percent) qualify to receive reduced-price school lunches.
Another 48 students (or 27 percent) do not qualify for lunch assistance, the lowest rate among district elementaries.
As a high-performing school, New York will be honored during a recognition dinner in November in Junction City.
The task force is made up of eight organizations: American Association of University Women; Kansas Congress of Parents and Teachers; Kansas Association of School Boards; Kansas National Education Association; Kansas School Public Relations Association; Kansas State Board of Education; Kansas State High School Activities Association; and United School Administrators of Kansas.
•••
More from New York School: Chris Lempa, coordinator for the Full Circle Youth Program at Douglas County Housing Inc., reports that the school's "walking school bus" program regularly gives nearly 30 students an opportunity to walk home from school.
Douglas County Housing Inc. partners with the school to provide the service. Four United Way AmeriCorps volunteers lead the way each Monday, and the program has expanded to operate Tuesdays and Thursdays — with Fridays likely on the way soon, Lempa said.
The program is conducted with the help of volunteers and with financial assistant from Live Well Lawrence and the Douglas County Community Foundation.
Anyone interested in helping out, or endeavoring to create a walking school bus for another school, may contact Kendra Noll at 331-4418 or knoll@ldcha.org.
Copyright 2018 The Lawrence Journal-World. All rights reserved. This material may not be published, broadcast, rewritten or redistributed. We strive to uphold our values for every story published.