Past Event
Kansas University football
When: Saturday, October 22, 2011, 11 a.m.
Where: Memorial Stadium, 11th and Maine streets, Lawrence
-->
-->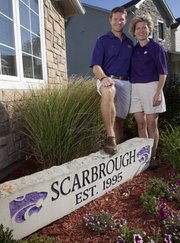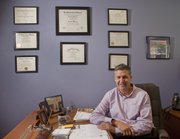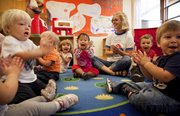 Red and blue make purple, that much is true. But then, what do degrees from both Kansas and Kansas State universities make?
Well, the results are a whole lot muddier than purple, that's for sure.
Some folks with dual diplomas go the route of KU Athletic Director Sheahon Zenger and cheer for the Crimson and Blue. Others, such as Gov. Sam Brownback, are for the Wildcats all the way. He was Kansas State's student body president at one time, after all.
But as far as who they're going to root for this weekend when the Wildcats come to Memorial Stadium for the annual KU-KSU football game? Chances are that despite their dual citizenship as both Wildcats and Jayhawks, these folks are going to be bleeding purple and golf-clapping for the home team.
Why? Because it's all about the undergraduate degree. And chances are, if you're going to have degrees from both major state institutions, you're going to do it by spending your undergrad years in Manhattan and then getting a graduate degree in Lawrence or Kansas City as part of KU's system. That's how Zenger and Brownback did it, and it's how the majority of dual-grads do it. In fact, according to records keepers at Kansas State, there are only 11 students enrolled this semester in post-grad programs who graduated with bachelor's degrees from KU.
Yes, 11.
Out of 4,021.
Which is why if you've gotten a degree from both KU and KSU, your path and loyalties are probably very similar to that of Dr. Marc Scarbrough and his wife, Kim. The Lawrence residents are prime examples of people with both degrees and split, if uneven, loyalties.
The Scarbroughs attended Kansas State as undergrads, and while Marc was finishing up his pre-med degree, Kim actually worked as a recruiter for K-State, traveling the Midwest looking for the next wave of Wildcats. After graduation, Marc enrolled in medical school at KU Medical Center, and Kim ended up attending KU for a master's in higher-education administration.
The family has lived in Lawrence since 2006, and though they have a Wildcat landscape rock set prominently in their yard, they also hold watch parties for KU basketball.
"When they're not playing K-State, honestly, I do cheer for them," Marc Scarbrough says of the men's basketball team. "And I hope they do well because I think it's good for the state of Kansas. They have a lot of national recognition. Certainly, I would much more prefer K-State to be winning national basketball championships, but ... "
But they'll do what they need to do to be social as Lawrence residents. And it's not the same as the blood-boiling occasions when the Wildcats are on TV. In fact, the family doesn't really hold watch parties for the Wildcats — it's too emotional. And Kim says there's no real reason to wonder why.
"Particularly, my educational background being in higher ed and student affairs, it's truly a student-life experience that I think you get at that point in life when you're a traditional student. That's where their loyalties lie because it is much more than a classroom experience. It's a cultural experience. It's an experience in defining who you are at that point in your life. I think everything is much more tangible at that point and sticks with you in your memory," Kim Scarbrough says.
"Whereas in graduate work, the reality is that you typically have so much more going on in your life at that time. You're usually working, you may have a family. You may have other commitments that the campus life and the feel of the atmosphere isn't as important or pertinent at that point in your life because you may be beyond your traditional college student age."
Seconding that feeling is Amanda Ernlund. Ernlund also went the KSU-to-KU route, though she isn't yet part of the Wildcat/Jayhawk club — she'll get her degree in molecular-cellular-developmental biology in December. She says though she feels loyal to her professors, advisers and fellow students and her research, she feels like she's just been working a job for the past two years, not attending school in the same way she did while in Manhattan.
"Grad school is more like a job," Ernlund says. "You come and you stay in the same building every day. You see the same people every day. You aren't involved in the university — you're very much involved with your department, and specifically with the lab that you work in. So you're not coming and taking a variety of classes. There's not a lot of time to be involved with extracurricular stuff with the university. So it makes it hard to make it hard to be a part of the university community."
As for folks who have degrees from both schools and went to KU and K-State later? No word as to where their loyalties lie. The closest we found to a KU-to-KSU person was Kelli Kuhlman, a Lawrence native who did her English undergrad at Emporia State, but is now working at KU's childcare facility, Hilltop, while receiving a second undergrad degree online through Kansas State.
In the same way the KU master's and doctoral students say they'll never bleed crimson and blue, Kuhlman says she doesn't feel like a Wildcat at all. If she's rooting, she's rooting for KU. And other than a teacher who thought she'd made a typo when explaining digitally that she worked for KU (the teacher thought Kuhlman left out the S in KSU), her Lawrence connection hasn't meant much. She's a Jayhawk, by the way, but not for the reasons you might think.
"I have a lot of respect for (KU's) quality of programing in school and their graduate programs and how diverse and how renowned, and their childcare center, obviously, has amazing standards and is really high quality, and that makes me really proud, more than any sports team.
"I mean, I guess I'm glad we're good at basketball and it's fun to go to games sometimes, but most of what makes me proud is the academic integrity that KU provides," Kuhlman says. "And K-State, I really appreciate their willingness to work with nontraditional students, and that flexibility, I'm very grateful for, because I wouldn't be able to get the degree that I want as easily otherwise."
Dr. Richard Wendt also admits to seeing the value in both of Kansas' major colleges and their cities. He grew up near Manhattan, went to K-State, attended KU Med and then moved to Lawrence upon finishing his residency in a KU program set up in Wichita. Though he bleeds purple — he even has his KU-issued doctoral degree pegged on a grape-colored office wall — he says he loves Lawrence, and living here has for more than 20 years has given him a soft spot for the old Jayhawk.
"It's definitely softened it," he says of his feelings toward Jayhawks since beginning his Lawrence residency since 1988. "I really try to pull for them in football, especially, because I know they need help and need to win some games. So I really would hope that they can get that program going."
That's not to say, though, that he'll be wearing crimson and blue on Saturday. Or any time K-State lines up against KU.
"I'm definitely not one of these K-State football, KU basketball types. If I'm going to be in, I'm going to be in on all their sports," he says, though he admits his dad roots for both schools. "So if I go to a KU basketball game against K-State, I'll have my purple on here. No question."
Copyright 2018 The Lawrence Journal-World. All rights reserved. This material may not be published, broadcast, rewritten or redistributed. We strive to uphold our values for every story published.