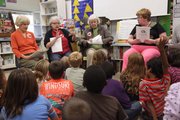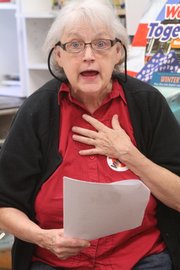 It's hard to know who has more fun — the audience members who attend a performance by the Vintage Players, or the performers themselves.
"We have a lot of laughs at our meetings," says troupe member Agnes Engelmann. "We read things at our meetings we could never perform, but we get a kick out of reading them. We do improv. We play charades. It's just a lot of fun."
Troupe member Charles Neuringer concurs: "We're all hams," he says.
"Our mission statement says that we have to have a good time," says Vintage Players director Mary Ann Saunders.
Vintage Players was the brainchild of Pete Knetsch, a director of several Theatre Lawrence productions.
"He realized that the physical demands of performing onstage can be difficult for an aging performer," says Saunders. "Also as actors grow older, they become unsure of their ability to remember. They want to continue performing but not have to worry about memorization. Pete knew of other community theaters which had senior troupes, so he started the Vintage Players."
The group, which performs with script in hand, appears all over town: at senior centers, social clubs, family reunions and "just about any other venue that requests their presence," says Saunders.

"They are wonderful," says Marilyn Stevens, activities director at Drury Place at Alvamar. "There is always a big turnout when the group is scheduled. It's so nice that they come and bring theater to our residents, many of whom can't get out to see it."
Theatre Lawrence director Mary Doveton said the troupe is comprised of an eclectic mix.
"It is such a fantastic group. They're interesting and dedicated people," she said. "We have a retired social worker, a professor, a guy who is retired military … such a mix of people, and so many of them have never done anything like this before. Many have discovered the theater at a later stage of life, and they take time to share their joy with others."
Several years ago, the Vintage Players initiated an intergenerational program with area schoolchildren.
"We heard about some children who were falling through the cracks," says Saunders. "They weren't able to comprehend what was printed on the page."
Who better to make words come to life than a theater company with time during the school day? Members of the Vintage Players began meeting regularly with second-graders at Cordley and Deerfield schools.
"We decided to read some of the classic fairy tales to the students because these tales are an important part of our culture," Saunders said. "They teach morals and values, and kids today don't know them. If it hasn't been turned into a Disney movie, they don't know the stories. If I say Rumpelstilskin, they say, 'huh'?"
After the Vintage Players read the fairy tales, the students assume the various characters in the stories and act out the plot.
"We talk about the order of events in the stories, and cause and effect," Saunders said. "And since the children never know what part they are going to play, they're always very attentive during the reading."
Cordley teacher Bev Hyde said the actors provide a "wonderful learning experience" for the students. Physically acting out fairy tales "encourages creativity and cooperation," she said.
"The activities engage the children in listening and audience skills," she said. "They recognize story elements and sequence of events."
The experience sometimes sticks with a child. Saunders is especially pleased when a child or adult discovers a love of the theater and of performing as a result of one of their performances.
"I love it when people come up to me and say [about their children], 'He tried soccer and he tried football, and this and that, but was never very good at, and now he is doing theater and it's wonderful," she said. "The ability to speak in front of a group is an incredibly important skill — as important now as it ever has been."
Saunders is also pleased when older audience members approach her after a performance.
"Once people find out about the group, often they want to join. They will want to bake cookies or find props and would rather die than perform. Usually those are some of my biggest hams," she says.
"We take anybody, and we're always grateful for new talent. The only requirement for this program is a good sense of humor and the ability to kick back and have fun."
Copyright 2018 The Lawrence Journal-World. All rights reserved. This material may not be published, broadcast, rewritten or redistributed. We strive to uphold our values for every story published.