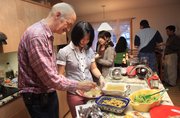 Kansas University student Hafizah Jamal had seen Thanksgiving portrayed plenty of times on American television shows and movies. But the Malaysian native, who came to KU to study psychology this August, wanted to see the real thing firsthand.
"What's better than Thanksgiving in America?" she asked.
Jamal was one of about a dozen KU international students spending the day with Lawrence couple Norma and Karl Schmidt as part of the 57th annual Betty Grimwood Thanksgiving Homestay Program, sponsored by the KU International Student and Scholar Services.
About 20 families across the area were acting as host families, and some of the students, who may live in the residence halls, spend the whole weekend with the families, while others simply stop by for the Thanksgiving meal.
"Their families are away so this is kind of nice," said Galo Salcedo, program coordinator. Salcedo said the program also honors the spirit of Betty Grimwood, who started informally hosting KU international students over Thanksgiving at her home in the small town of Burns. The program was named after Grimwood following her 1999 death.
For the Schmidts, who have hosted international students for about 20 years now, it's a good learning experience.
"I really like hearing about the world from other points of view," Karl said. "You see the world differently."
And the Schmidts' dinner table highlighted not only traditional American Thanksgiving Day foods but also a wide variety of culinary creations from across the globe.
Rachel Schwaller, who recently moved back to Lawrence, and her husband, Rob, are starting to "set down roots" in Lawrence and decided to host their first international student Thursday. It'd be a little smaller than the Schmidts' — one student, along with Schwaller's grandmother — but she was hoping it'd become a family tradition.
"It's a good way to get involved," she said.
Copyright 2018 The Lawrence Journal-World. All rights reserved. This material may not be published, broadcast, rewritten or redistributed. We strive to uphold our values for every story published.