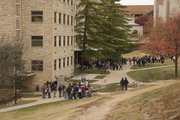 Malott Hall, which houses Kansas University's chemistry department, was evacuated Wednesday morning after reports of a possible chemical spill.
University spokeswoman Jill Jess said someone reported the possible spill about 10 a.m. Emergency crews from Lawrence-Douglas County Fire Medical and KU's Environmental Health and Safety were on the scene. The building was evacuated because of an "abundance of caution," Jess said.
Students and faculty were readmitted shortly after 11. Jess said the likely source of the smell was sealant applied to the floors earlier this week.
Copyright 2018 The Lawrence Journal-World. All rights reserved. This material may not be published, broadcast, rewritten or redistributed. We strive to uphold our values for every story published.