Photo Gallery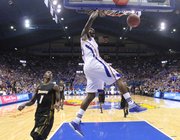 KU vs. Towson
Press Conferences & Post-Game Interviews
KU coach Bill Self
Kansas coach Bill Self talks to reporters following the Jayhawks' 100-54 victory over Towson on Nov. 11, 2011.
Towson coach Pat Skerry, who originally recruited Kansas University point guard Naadir Tharpe when Skerry was a part of the Providence coaching staff, was impressed with the freshman following KU's 100-54 victory on Friday.
"He's going to be a terrific player for you guys," Skerry said. "Actually, when I was at Providence, he was the last guy that committed while I was an assistant there, and then he opened (his recruitment) back up.
"Make sure you guys take care of him. Otherwise, we'd love to have him at Towson," he added with a smile.
Skerry also was reunited with another familiar face Friday; the first-year coach recruited KU forward Thomas Robinson during his time at Providence.
"He's a beast, and he's locked in," Skerry said of Robinson. "He's obviously a tremendous kid. I wouldn't have liked to see him play so well against us, but I wish him luck the rest of the year."
Skerry noticed one main difference in Robinson from the days when he recruited him.
"The strength program here," Skerry said. "He's a savage. He has a tremendous motor, strength, energy. He's certainly a guy that's an NBA talent, in my opinion."
Towson had difficulties simply holding on to the basketball for most of Friday's game.
The Tigers turned it over 23 times, which led to 31 points off turnovers for the Jayhawks.
"It's hard to evaluate our half-court defense," Skerry said. "There is no defense for run-outs. That's the disappointing thing."
One positive for Towson was its rebounding. The Tigers outrebounded the Jayhawks, 35-32.
"Just trying to match their intensity, basically," Towson senior Robert Nwankwo said. "Every time the ball went up, (it was) just finding a player and boxing him out."
Towson actually topped the point total of both of its exhibition games. The Tigers scored just 51 points on Oct. 29 against Holy Family and 43 on Nov. 6 against Virginia State.
Skerry still left wowed by the Jayhawks.
"If it's possible to be underrated at 13th in the country, I think Kansas is," Skerry said. "Obviously, coach (Bill) Self had them ready to play tonight. They were terrific on both ends of the floor, and they deserve a ton of credit. Coming in here to the mecca of college basketball, we hope this provides a tremendous learning experience for our young team down the road."
Copyright 2018 The Lawrence Journal-World. All rights reserved. This material may not be published, broadcast, rewritten or redistributed. We strive to uphold our values for every story published.