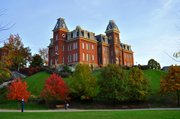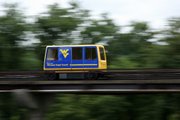 When Michelle Sandrey first moved to Morgantown, W. Va., she couldn't help but be reminded of her years in Lawrence and elsewhere in Kansas.
Having relocated to the foothills of the Allegheny Mountains a dozen years ago, she saw large spaces reminiscent of the Kansas prairie... and a river running alongside downtown Morgantown, not all that unlike the Kaw... and plenty of retirees attracted to the university and its activities and culture and everything else.
And then she set out to run.
"I used to walk from the gym, Robinson Gym(nasium), up and down the hill to the education building," said Sandrey, who spent three years in Lawrence, taking plenty of classes at Bailey Hall on her way to a doctorate in physical education. "Here, there's hills all over the place. It's not just Mount Oread and that's it."
Sandrey figures Kansas University friends, fans and others will have fun getting to know Morgantown and WVU — where she serves as an associate professor and director of the Graduate Athletic Training Program — as the school joins the Big 12 Conference.
"I just don't know when that's going to happen," she said.
While everyone waits for conference-realignment issues to settle — and for Missouri to finally make its play to shift into the Southeastern Conference — here are some numbers behind the school and community lined up to be the 10th member of the Big 12:
1
Number of people — Gene Budig — who have served as president of West Virginia University, then as chancellor of Kansas University.
28,654
Population of Morgantown.
29,617
Number of students enrolled at WVU for the fall semester, of which 52 percent are residents of West Virginia and 52 percent are male. While the enrollment total is roughly equal to KU's, more than two-thirds of Jayhawk students are Kansas residents and, overall, fewer than half — 49 percent — are guys.
5
Number of stations on the WVU's 8.7-mile Personal Rapid Transit line, a system of computer-driven, electric-powered vehicles connecting the school's downtown, Evansdale and Health Sciences Center campuses. It is free for students, faculty and staff.
1867
Founding year for the Agricultural College of West Virginia, a public land grant institution renamed West Virginia University a year later. Today the school has 13 colleges and schools that together offer 191 bachelor's, masters, doctoral and professional degree programs. The schools: dentistry, journalism, medicine, nursing, and pharmacy.
The colleges: agriculture, natural resources and design; arts and sciences; business and economics; creative arts; engineering and mineral resources; human resources and education; law; physical activity and sport sciences; Potomac State College of WVU; and an institute of technology.
177.7
Millions of dollars received, annually, in sponsored contracts and research grants.
955
Millions of dollars in the university's combined expense budget.
907
Miles, by car, from Allen Fieldhouse to WVU Coliseum, home of the basketball Mountaineers.
23.1
Average ACT score for students; the average high school GPA is 3.36.
96.3
Millions of dollars contributed during the past fiscal year to the West Virginia University Foundation.
14
Number of national championships won by West Virginia, and all in one sport: rifle. The Mountaineers rifle team currently is ranked No. 2 in the country, behind defending national champion Kentucky.
1
Number of times KU has played West Virginia in football. The Jayhawks — then a member of the Big Six Conference — lost, 21-0, to the Mountaineers on Nov. 8, 1941, in Morgantown. The two schools never have met in men's basketball, perhaps giving Bill Self and the Jayhawks a chance to someday even the score against former K-State Coach Bob Huggins' Mountaineers.
Copyright 2018 The Lawrence Journal-World. All rights reserved. This material may not be published, broadcast, rewritten or redistributed. We strive to uphold our values for every story published.