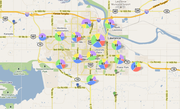 A set of interactive Google maps providing a breakdown of crime in Lawrence in 2011.
Douglas County prosecutors Thursday filed a misdemeanor battery charge against a 26-year-old Lawrence man who was accused of punching his roommate in the mouth during a fight Tuesday evening at their apartment in the 2400 block of Alabama Street.
Chad Kasey Kidd appeared in front of a judge Thursday afternoon on the charge. Sgt. Matt Sarna, a Lawrence police spokesman, said Kidd was arrested Thursday evening after his roommate, a 32-year-old Lawrence man, alleged Kidd injured him during an argument about living arrangements. The roommate was treated for an injury at Lawrence Memorial Hospital, Sarna said.
Copyright 2018 The Lawrence Journal-World. All rights reserved. This material may not be published, broadcast, rewritten or redistributed. We strive to uphold our values for every story published.