Photo Gallery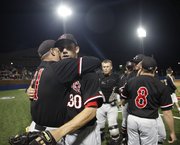 LHS baseball vs. Shawnee Mission West
In Friday's Class 6A state baseball quarterfinal against Shawnee Mission West, Lawrence High senior Aaron Gile failed to capitalize on three run-scoring opportunities in his first three at-bats.
When Gile stepped to the plate in the seventh inning with the game tied and a runner on first, those missed chances didn't even cross his mind.
"I was just thinking up the middle and the other way," Gile said.
After an RBI double to the center-field wall lifted the Lions to a 2-1 victory at Kansas University's Hoglund Ballpark, the memories of those first three at-bats might be lost forever.
Senior Alex Laughlin earned the win on the mound, striking out the Vikings' Dan Prem for the final out.
The Lions celebrated a bit, but they clearly were focusing on the goal for Saturday — a state title.
"We expect to win," junior Troy Willoughby said. "We come ready to play, ready to win. Just had that mentality and expected it."
Gile's double gave the Lions the second run they needed to advance to Saturday's semifinal against Blue Valley West. First pitch is set for 12:30 p.m. at Hoglund.
"He absolutely put a great swing on that ball," LHS coach Brad Stoll said. "I'm proud of him."
Willoughby started the game-winning, seventh-inning rally after being hit by a pitch with one out. Gile came to the plate and sent a first-pitch fastball from the Vikings' Jeff Boyd through the gap. Willoughby scored easily.
And though Gile was an obvious hero, the Lions (14-9) used a team effort to keep their season alive.
Laughlin yielded a run in the first inning, but zoned in the rest of the way, striking out six.
Catcher Jake Vinoverski blocked several pitches in the dirt.
Willoughby and shortstop Corbin Francisco made great defensive plays from the left side of the infield.
"Everybody did something to get us into the semifinals," Stoll said. "That's why I love this team. They're battlers, and they do it together."
Center fielder Ross Johnson shined both offensively and defensively, going 3-for-4 and gunning down the Vikings' Nick Thayer at the plate in the first inning.
"We celebrated, and we high-fived him, but it's like, 'Ross, that's what you're supposed to do,'" Stoll said.
Junior left-hander Garrett Cleavinger will start on the mound Saturday against Blue Valley West.
If the Lions win, they would play for the state championship at 5:30 p.m. against the winner of top-seeded Maize and fifth-seeded Shawnee Mission East, who play at 10 a.m.
There might not be a third-place game as regularly scheduled, depending on the weather.
Copyright 2018 The Lawrence Journal-World. All rights reserved. This material may not be published, broadcast, rewritten or redistributed. We strive to uphold our values for every story published.