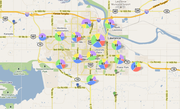 A set of interactive Google maps providing a breakdown of crime in Lawrence in 2011.
An employee of Reed Dillon and Associates landscape architectural firm reported to Lawrence police Friday that someone had stolen $2,100 worth of items, including two digital cameras, a laptop computer, a Rosetta Stone Spanish program and a chain saw in a burglary from the business, 1213 E. 24th St. It occurred between 4:30 p.m. May 19 and 7 a.m. Friday.
Copyright 2018 The Lawrence Journal-World. All rights reserved. This material may not be published, broadcast, rewritten or redistributed. We strive to uphold our values for every story published.