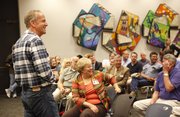 U.S. Sen. Jerry Moran said Monday that spending cuts needed to be part of a congressional deal to increase the country's debt ceiling in coming months.
"If we don't do something now, our country really will be broke, and so there are dire consequences to not doing something in regards to spending and in regards to the deficit," Moran said after talking to a group of about 80 people at Lawrence Chamber of Commerce event at the Lawrence Public Library, 707 Vt.
The U.S. Treasury Department has given Congress an Aug. 2 deadline to raise the federal government's debt ceiling without risking a default, and Obama administration officials are involved with trying to work out a deal with Congress.
Moran, a Kansas University graduate who is serving his first term in the Senate after seven terms in the House, said during his town hall meetings in 56 counties he has heard concerns from Kansans about government spending plus other economic issues like high gasoline prices and jobs.
Moran wore a plaid shirt, jeans and boots in Lawrence as he took questions for nearly an hour before heading back to Washington. He had come to Lawrence directly from surveying tornado damage in Reading in Lyon County.
The senator told the Lawrence crowd, which included KU Chancellor Bernadette Gray-Little, it was easier to explain to them why he was in boots and jeans than it would have been to tell Reading residents why he was wearing a KU tie with a suit.
In response to a question about the extension of the Bush tax cuts contributing to the deficit, Moran said that he would be in favor of an overhaul to simplify the tax code, and that he feared any increase in taxes would lead to higher spending.
"My guess is you would not see a reduction in the deficit that corresponded with that increase in taxes," Moran said.
Moran also addressed questions on:
• Libya and presidential military powers: "My general belief is that Congress ought to have a significant say unless it's a defensive action before our military is engaged," he said.
Earlier Moran had said that the executive branch had assumed too much power related to military action and that Congress needed to assert itself more, especially with a debate over a resolution about whether it was "the proper course for our country or not" to be militarily involved in Libya.
• Health care: He did not support the Democratic health care overhaul in 2010 and said he didn't believe it was working at reducing health care costs. But Moran did say Congress should address things like medical malpractice lawsuits and more effective medical records technology.
"There's an election in 2012 that determines the outcome of health care reform," he said.
• Alternative energy: "We need to be thinking about this long term, as opposed to a sound bite for the next election," Moran said.
Copyright 2018 The Lawrence Journal-World. All rights reserved. This material may not be published, broadcast, rewritten or redistributed. We strive to uphold our values for every story published.