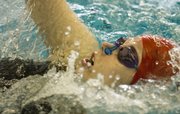 Topeka — Two underclassmen helped make sure the final swim meet in the careers of Lawrence High seniors Rachel Buchner and Mallory Neet was a memorable one Saturday.
Led by the strong showings of first-time state swimmers Annie Odrowski and Miranda Rohn, LHS moved up one spot from last season to finish 14th at the Class 6A state meet at Capitol Federal Natatorium at Hummer Sports Park.
Odrowski, a freshman, was the top LHS placer Saturday. She finished fifth in the 500 freestyle in 5:28.77, nearly a half second faster than Friday's prelim time.
Odrowski also joined Rohn and the two LHS seniors on a pair of relay teams, the 200 medley relay, which placed 11th in 2:02.31, and the 400 free relay, which dropped three seconds off its fastest time and finished 14th in 4:04.50.
"I was really proud of our 400 free relay," Odrowski said. "It was just a lot of fun finishing the meet with our two seniors."
Rohn, a sophomore, finished seventh in her individual final, the 100 backstroke. Her time of 1:01.95 was on par with what she swam during Friday's prelims.
Like Odrowski, a good chunk of Rohn's first time swimming at state focused on the departing seniors.
"I'm so close with our seniors and I'm really sad to see them go," she said.
At the same time, both Odrowski and Rohn were thrilled to have the experience behind them so they can come back stronger in the future.
"It was pretty crazy," Odrowski said. "It's really intimidating because all of these girls are older than us and bigger and stronger and faster. I've come to watch before but swimming in it is totally different. It was awesome."
Added Rohn: "I expected the noise, but I wasn't expecting it to be so big."
Copyright 2017 The Lawrence Journal-World. All rights reserved. This material may not be published, broadcast, rewritten or redistributed. We strive to uphold our values for every story published.