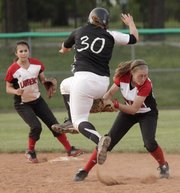 Topeka — Lawrence High senior catcher Kristen Bell needed a little help after helping her softball team defeat Topeka High in a wild regional championship on Tuesday.
She didn't know the final score.
But after hoisting the regional plaque and knowing that her team would be playing in the state tournament at Kansas University's Arrocha Ballpark next weekend, Bell didn't really care about the score, 12-10.
She just knew that four years of hard work had finally paid off. Big time.
"I can't believe it," Bell said. "I'm just in shock."
The Lions beat Free State, 4-2, to earn the opportunity to play for the regional championship.
The championship was far from a sure thing, despite coach Reenie Stogsdill feeling more confident about her team's chances than ever before.
The Lions (14-8) fell into a 5-0 hole after three innings, but stormed back to put up six runs in the top of the fourth.
Bell said the team used a photo in the dugout for inspiration. It's a picture of the team, adorned with the words "One Team, One Goal."
That goal was qualifying for the state tournament.
"When we got down five, they came in and I said 'No excuses, no blaming anybody, we need to get this done,'" Stogsdill said. "And then they come out and get them all back that inning. It was awesome."
The Trojans didn't relent, though, scoring three runs in the bottom of the fourth to pull back ahead, 8-6.
In the fifth inning, freshman Kristen Gile, who picked up a start in the second game at the designated player position, drove in Bell from third base to bring the Lions within a run. Gile added three RBIs in the victory.
"All I have to say is thank God that (Gile) was in the lineup," Stogsdill said.
Topeka High responded yet again, tallying two runs in the bottom of the fifth after a single with a runner on first bounced by centerfielder Bailie Richards and trickled to the wall. Both runners scored on the play, giving Topeka High a 10-7 lead.
And then, the Lions struck the final blow.
With two runners on, Bell lifted a pitch high into centerfield and looped wide around first base. It fell for a hit, and Bell sprinted all the way home for a three-run, inside-the-park home run.
"I was not stopping even if (Stogsdill) told me to," Bell said. "I just tried to run as fast as I could."
Senior Lauren Massey, who pitched all 14 innings for the Lions on Tuesday, put the Lions ahead with a two-out RBI double, and Gile drove Massey in with a double.
Topeka High earned baserunners in the sixth and seventh innings, but the Lions held them off for a wild victory.
"That was the craziest game I've ever played in," Bell said.
"It was just back and forth, back and forth," Massey said. "We just didn't give up. In these games, you can't give up even if you go down like that."
Before walking back to celebrate with her teammates, Bell wanted to make something clear.
"We're not done," Bell said. "We're not done by any means."
State tournament play starts May 27 at Arrocha Ballpark.
Copyright 2018 The Lawrence Journal-World. All rights reserved. This material may not be published, broadcast, rewritten or redistributed. We strive to uphold our values for every story published.