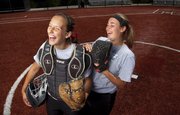 There are bad starts, and then there's the way Lawrence High softball pitcher Lauren Massey started her high school career.
Just a freshman, Massey earned the varsity start against reigning state champions Olathe East. Stellar shortstop Laura Vickers, now playing at Kansas University, stood at the plate, awaiting Massey's first high school pitch.
The ball left Massey's hand and soared directly into Vickers' back, right in front of then-freshman-now-senior catcher Kristen Bell.
Massey worried that she wasn't ready to play for coach Reenie Stogsdill.
"I looked at (her), and I'm like, 'I know, I swear I can pitch,'" Massey said.
Bell was just scared.
"And then after that, it got a lot better," Bell said, smiling.
Massey and Bell have been battery-mates since that first pitch. After a rough first two seasons, including a 1-20 campaign in 2009, the two have helped build the Lawrence High program from the ground up.
They led their team to a 12-8 record in the regular season, and they hope their hard work over the past four years continues to pay off in a regional semifinal against Free State (9-11) at 4:45 p.m. today at Hummer Sports Park in Topeka.
That sophomore season — when the Lions scored just 1.14 runs per game to support Massey in the circle — was the tipping point.
At first, Bell said the Lions couldn't figure out why all the losses were happening.
"We weren't happy with our 1-20 season at all," Bell said. "We knew we would have to do something to change that."
"That sophomore year was a major, major blow," Massey said. "But that kind of gave us the fire."
Bell and Massey started to work hard on their own games and encouraged teammates to start playing in the summer and hitting in the batting cages during the winter.
Before their junior season, the Lions were given a nice incentive to improve — a high-quality, softball-specific stadium was built 200 yards from the main LHS building.
The Lions took strides in 2010, finishing 9-13 with a loss to Washburn Rural in the regional final.
Now, the seniors are ready to finish their high school careers strong, but they're also ready to embrace college softball. Bell will play at Washburn, Massey at Highland Community College.
"We've talked about it before," Bell said. "And we're just like, 'Oh my gosh, it's here.'"
Copyright 2018 The Lawrence Journal-World. All rights reserved. This material may not be published, broadcast, rewritten or redistributed. We strive to uphold our values for every story published.