1800 block of County Road 1023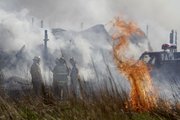 Firefighters from several Douglas County townships were called to a fire in a barn in the 1700 block of County Road 1023 near Big Springs, about 7 miles west of Lawrence, about 4:30 p.m. Monday.
What started as a grass fire "kind of got away from (those lighting it)," and extended into the barn, said Kanwaka Township Fire Chief Chris Lesser. An estimate of the damage was not yet available, but Lesser said there was only hay in the barn.
No injuries were reported and crews cleared the scene about 7:30 p.m.
Firefighters from Lecompton Fire/EMS and Wakarusa Township assisted on the scene, which is just south of U.S. Highway 40.
Lesser said there are a few precautions to take when preparing for a controlled burn.
"Part of it is having enough equipment on hand to control the fire," said Lesser.
"Either mow around an area you don't want to burn, or (use) control strips."
A control strip is a strip of grass that is either mowed very short, or mowed short and then burnt.
"Then nothing will burn (when it meets) the part that's been burnt already," said Lesser.
Visit the Kansas State Research and Extension website for more on controlled burning and its benefits.
Copyright 2018 The Lawrence Journal-World. All rights reserved. This material may not be published, broadcast, rewritten or redistributed. We strive to uphold our values for every story published.