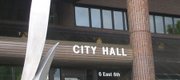 Subscribe to the email edition of Town Talk and we'll deliver you the latest city news and notes every weekday at noon.
News and notes from around town:
• A major apartment project in the Oread neighborhood is starting to take shape. As we previously reported, a development group led by Lawrence businessman Thomas Fritzel had plans to raze the early 1900s home at 1043 Ind., which has become known as Varsity House because it once was used by KU to house the varsity football players. Well, the idea for a major apartment building remains, but now Fritzel is proposing to keep the Varsity House, but move it off its current lot and onto an adjacent vacant lot just north of where the house sits today.
Lawrence architect Paul Werner is designing the project, and he said the development group hopes to build 50 two-bedroom apartments at the site. In general, the apartment project would take up the entire corner and then some. It will be a multi-story building — likely four to five floors — and will have two levels of underground parking for 129 vehicles. The project would be a significant one for the Oread area. I believe it would mark the first time that an apartment complex would have significant underground parking in the neighborhood. Werner said the project could serve as a model for how to redevelop several other aging apartment complexes that are in the Oread area.
"This is the right place to do it," Werner said. "It is a block from the stadium, a block from campus. It is a real opportunity to build a new type of project."
As for keeping the Varsity House, Werner said it clearly is an attempt at a compromise with historic preservationists who had expressed concerns about its demolition. Werner, though, said the house needs to be moved because it currently sit too much in the middle of the proposed building site. The Lawrence Preservation Alliance previously had said they weren't opposed to redeveloping the area but thought the house could be saved and incorporated into the project. Moving the house is a new twist. It will be interesting to see how it is received.
Werner said plans call for the house to be renovated and likely used as a six- to seven-bedroom boarding house. The house has an interesting history. The Dutch-Colonial Revival style home was built in 1908. But its uniqueness really comes from its designer, Harriet Tanner, a Lawrence widow who gained a reputation for designing and financing more than a dozen homes for KU professors. It was odd for women of that time to be in the design business, but her activity must have made an impression on her son Edward Tanner. He went on to become an architect, and ended up being the chief designer for Kansas City's Country Club Plaza area.
This project will have to win a lot of approvals from City Hall before it goes forward. Up first will be the Historic Resources Commission, which will hear issues related to moving the house at its May 19 meeting.
• Sometimes a City Commission vote can be deceiving. Commissioners at Tuesday evening's meeting voted 5-0 to allow Bert Nash to close down the 600 block of Massachusetts Street for a community event/fundraiser on Sunday, Oct. 9. But the idea wasn't equally loved. Commissioners Mike Amyx and Bob Schumm — as they did last week with a request for a car show that would close a different portion of Mass. — expressed quite a few concerns. Amyx and Schumm — who both own businesses on Mass. Street — said closing Massachusetts Street for any extended period of time really disrupts business.
Schumm urged Bert Nash and other groups in the future to take a harder look at using parks — such as downtown's Watson Park — for events.
"We built these parks for people to enjoy," Schumm said. "The streets are nice too, but there are people trying to make a living."
Amyx said he also thought side streets in downtown were more appropriate for events than Massachusetts.
But the other three commissioners said they didn't want to rule out Mass. Street for future events. Mayor Aron Cromwell said the events go a long way in creating an image for downtown that helps bring people to downtown even when there are not events. Commissioner Mike Dever said he wants the city to be "thoughtful" in how it uses the block for events, but said it should be available for some signature events.
"It really is one of the best places to showcase Lawrence," Dever said.
Commissioner Hugh Carter said he had been under the impression that businesses felt events were a net positive for downtown. He urged Downtown Lawrence Inc. to come up with a position on what type of events are helpful for merchants.
Schumm and Carter will be hosting a listening forum for downtown businesses at 5:30 p.m. on May 19 at City Hall.
Businesses in the 600 block of Mass. were mixed about the idea. Waxman Candles sent a letter in support of the Bert Nash event, but a representative at Winfield House said he had concerns about the impact it would have on customers trying to get to his furniture and home store.
Downtown Lawrence Inc. had expressed concerns when the event originally was planned for a Saturday, but said moving it to a Sunday was a good compromise. The event — which will include a race, music and food — is expected to run from Sunday morning to about 1 p.m.
In short, I would say this idea of downtown events and where they ought to be located, is the first split of the new commission. I suspect that means we haven't heard the last on the subject.
• We previously reported that For-tu-ity — a clothing and boutique store that also operates in the Country Club Plaza — is coming to 809 Mass. later this summer. We also reported that the owner of Prairie Pond Studio, which currently occupies 809 Mass. was unsure whether she would move her shop to a new location or simply close. Well, owner April Del Campo has told me she is planning to stay open. She said she's begun looking at other Mass. Street storefronts and hopes to secure one by mid-June. We'll try to keep you updated.
• One store that won't be around this summer is Bauhaus Fashion, 11 W. Ninth St. The upscale women's clothing retailer has announced it is going out of business. The store — which has been open for about two years — is now discounting items and may close as soon as the end of the month, an owner told me. The store owner told me the sluggish economy was the main factor in the store's closing. She said some other retailers have taken a look at the space, which basically next door to downtown anchor Weaver's, but she said no firm deal has been struck.
Copyright 2018 The Lawrence Journal-World. All rights reserved. This material may not be published, broadcast, rewritten or redistributed. We strive to uphold our values for every story published.