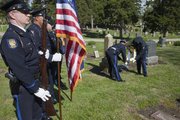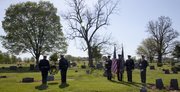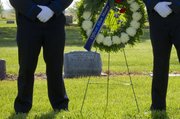 It has been 80 years since a Lawrence police officer was killed in the line of duty.
But Friday morning outside the department's investigations and training center, 4820 Bob Billings Parkway, officers and others gathered for a moment of silence with the American flag flying at half-staff.
"We don't want to forget people who have made that sacrifice — officers Allen Moore, Wilson Pringle and Melvin Howe," Police Chief Tarik Khatib said. "That was a long time ago, but certainly those aren't forgotten, and we don't want to have that happen again."
The annual ceremony honored the officers and Lawrence firefighter Mark Blair, who died in a 1986 arson fire, as part of Kansas Law Enforcement Officers Memorial Day.
The three Kansas officers who died in 2010 include Franklin County Sheriff's Deputy Samuel A. Smith, 22, who was killed in a vehicle accident involving his patrol car July 23, 2010. A Friday ceremony at the Capitol in Topeka honored the officers, and the three officers who died in 2010 will join the 266 names already on the Law Enforcement Officers Memorial.
Of the three Lawrence officers, Moore died from a gunshot wound from his own weapon May 22, 1901, at the Union Pacific train depot in North Lawrence; Pringle was shot Oct. 11, 1909, while investigating a robbery and died five days later; and Howe was shot and killed April 24, 1931, after making a vehicle stop on a robbery suspect.
Several retired officers and city and other public safety officials with Lawrence-Douglas County Fire Medical, the Douglas County Sheriff's Office and Kansas University Public Safety Office attended the Friday morning ceremony in west Lawrence. After that, a Lawrence police honor guard followed tradition and placed wreaths on the graves of the three fallen officers at Lawrence cemeteries.
"We have to be vigilant in how we go about doing our business. We have to be vigilant in making sure we're always careful in how we do our jobs," said Khatib, who has served nearly 19 years with the department.
He said that nationally the fatality statistics for officers bears watching after 117 officers died in 2009 and then spiked to 162 officers in 2010. Khatib said most of the deaths appear to be due to traffic accidents and decreased staffing levels for budgetary reasons.
Mayor Aron Cromwell said even though it had been decades since a Lawrence police officer died in the line of duty, it's important to focus on what public safety officers and their families face daily.
"I stand here on behalf of myself, on behalf of the city, on behalf of the City Commission, humbled by your willingness to take that sacrifice upon yourself to make this a better place," Cromwell said. "I appreciate that from the bottom of my heart."
Copyright 2018 The Lawrence Journal-World. All rights reserved. This material may not be published, broadcast, rewritten or redistributed. We strive to uphold our values for every story published.