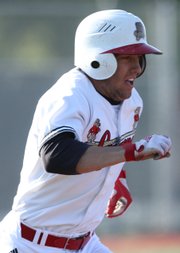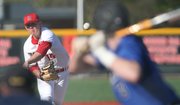 In the Lawrence High dugout, there's a small sign with a message that echoes the Lions' aggressive mentality. It reads, "So what? Next pitch."
After a sluggish 7-2 loss to Olathe Northwest at home on Tuesday, coach Brad Stoll might have needed to alter the message.
"We gotta flush out all those pitches and say, 'So what? Next game,'" Stoll said.
The Lions (10-6) picked up just four hits in their first Sunflower League loss of the season. The Ravens scored runs in five different innings to take the road victory.
Senior centerfielder Ross Johnson said he thought the team was ready to go from the first pitch.
"But we didn't really have much energy to start off with," Johnson said.
Just three days ago on the same field, the Lions knocked off perennial Missouri power Rockhurst.
Tuesday's game was about as different as it could've been.
Stoll was asked if he was disappointed with how his team played.
"I think disappointed would be an understatement," Stoll said. "I'm a little perturbed right now."
The Lions had just one hit through four innings and didn't have more than four batters in an inning until the fifth. Third baseman Shane Willoughby and catcher Drew Green had RBIs in the sixth inning, but the rally came much too late.
Starting pitcher Garrett Cleavinger, usually a steadying force on the mound, was wild from the start. His first pitch of the game drilled the backstop.
Later in the first inning, Cleavinger walked the Ravens' Austin Fisher. After a single by O-Northwest's Tyler Day, Fisher scored from second base on two pitches that squirted by Green.
Cleavinger walked six batters in 3 2⁄3 innings, allowing four runs to score.
"Just an off day," Stoll said. "He was absolutely brilliant last Tuesday, and he'll be brilliant next week."
Stoll likes the fact that his team gets to play again at 5:30 today at home against Shawnee Mission Northwest. The game was supposed to be played as part of the River City Baseball Festival, so it won't count in the Sunflower League standings.
Johnson said it's still important for the Lions to pick up a win for a couple of reasons.
First, the Lions want to host a regional, so their overall record matters. Second, the Lions want to get back on track before next week's games against Free State and the start of postseason play.
"Tomorrow's definitely going to test us," Johnson said.
Stoll will call a pregame meeting with his team and try to figure out just what went wrong on Tuesday.
"I have all the confidence in the world that they will come out hungry, focused and ready to play," Stoll said.
Copyright 2018 The Lawrence Journal-World. All rights reserved. This material may not be published, broadcast, rewritten or redistributed. We strive to uphold our values for every story published.