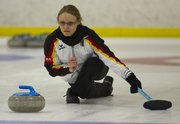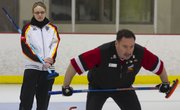 Kansas City, Mo. — On the weekends, Anne-Christine Barthel takes a break from life as an economics graduate student at Kansas University and takes time to play a sport that usually fades into obscurity for most Americans after the Winter Olympics.
She and the rest of the Kansas City Curling Club are back on the ice on Saturdays now at the Line Creek Community Center in Kansas City's Northland. They've been looking for a new home during the last few months after leaving Overland Park's Pepsi Ice Midwest rink.
Barthel is a doctorate student in economics, and she's been curling since the mid-1990s. She competes internationally in her home country of Germany.
"It was mainly a friend of mine," who got her started, she said. "She wanted to curl herself, and she needed teammates."
Curling isn't terribly popular in Germany, Barthel said. Even though not many Americans participate, it may be more widespread here than in her home country, she guessed.
In the German national women's championships, for example, she said about four teams usually compete.
However, the winners of the German national championships are also the reigning world champions, Barthel said, so it's still a good competition.
Curling, for the uninitiated, is something like shuffleboard on ice, with four players. One person releases or "curls" a 45-pound stone down a sheet of ice.
Two sweepers use brooms to sweep the ice in front of the stone to speed it up or slow it down, and try to guide it into a target area.
A fourth person stands behind the target and yells instructions to everyone else. It's a game of finesse and precision, as careful aim and good strategy can knock others' stones out of the way and put your team's stones in better position.
"It's a team sport, and you really have to work together with your teammates," Barthel said.
Ian Wolfe is the president of the Kansas City Curling Club, and said the curling club is always looking for new participants. In the past, it has attracted as many as 40 people on Saturdays and usually around 30 on Sundays, Wolfe said. His group offers learn-to-curl lessons for $20 through its website, kccurling.com.
"If you look at a sport on TV, it looks really easy to do," Wolfe said. "Whether it's basketball, football, hockey, lacrosse or soccer, all these sports, until you actually do it. Then you go, 'Ooh, man. This is a lot more difficult than I thought.'"
Still, he and Barthel both said it's something that anyone ages 10 to 80 can participate in.
Bill McBride of Kansas City, Mo., was one who helped teach a few rookies the basics on Saturday, including this Journal-World reporter.
It's a workout — my legs were still quite sore a day later from the squatting and gliding on the ice (if you could call what I did "gliding").
Sweeping gets pretty bad, too, Barthel said. In an international-style match, there are 60 stones curled on the ice.
"After that, your arms are heavy," she said.
The Kansas City club is made of more than a few Canadians (Wolfe was born and raised in Vancouver, British Columbia) and several people from around the area who have taken an interest in the game.
I made McBride give me an honest grade for my feeble attempts at the sport, and he settled on a "C+." I thought that was probably generous, but he said I showed good potential, and reminded me that no one is a natural at this.
"Nobody's born a curler," he said. "It just takes a little practice."
Copyright 2018 The Lawrence Journal-World. All rights reserved. This material may not be published, broadcast, rewritten or redistributed. We strive to uphold our values for every story published.