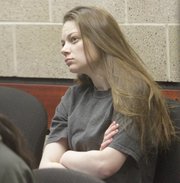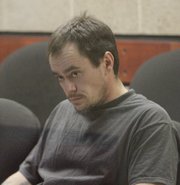 Douglas County's judge pro-tem set bond at $1 million each on Thursday for a husband and wife arrested Wednesday accused of first-degree murder for the 2009 death of their daughter in Tennessee.
Ryan Lee Robert Davis, 34, and Larissa Renee Davis, 23, both said they didn't intend to fight extradition and wanted to return to Tennessee as early as possible.
"I want to be extradited back so I can get to the bottom of this," Larissa Davis said. "I don't want to sit here in Kansas. I can't do anything in Kansas."
Lawrence police arrested the Davises early Wednesday morning at the Howard Johnson hotel, 2222 W. Sixth St., on warrants out of Sullivan County in Tennessee.
Tennessee authorities said a grand jury there Tuesday indicted the couple, who at one time lived in Kingsport, Tenn., each on charges of first-degree murder, aggravated child abuse and aggravated child neglect in connection with the 2009 death of their daughter Izabel Davis, who was less than 1 year old at the time.
Tennessee prosecutors said the case had been under investigation for more than a year before the indictments were issued. Lawrence police on Thursday said the Davises had connections to the Lawrence area and were not believed to be running from law enforcement.
Ryan Davis indicated during Thursday's hearing that he had had an appointed attorney before in Douglas County several years ago.
James George, Douglas County's judge pro-tem, appointed separate attorneys for the Davises Thursday before setting their bonds and set an extradition hearing for 2 p.m. March 21 in District Judge Sally Pokorny's courtroom.
Both defendants asked for an earlier court date, but George told them they would need to talk to their attorneys to see if they can appear before March 21.
"I have no intentions of trying to bond out. I would only ask the court to maybe consider moving that court date up," Ryan Davis said. "I'd like to get things on the move."
Douglas County prosecutors said Thursday that Sullivan County officials were in the Lawrence area and had spoken with Ryan Davis.
Tennessee prosecutors said they could not discuss details of the case this week but that Izabel Davis died at a Tennessee hospital Nov. 6, 2009.
Copyright 2018 The Lawrence Journal-World. All rights reserved. This material may not be published, broadcast, rewritten or redistributed. We strive to uphold our values for every story published.