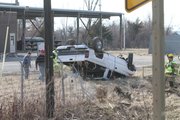 A man involved in a single-vehicle rollover accident Sunday afternoon northeast of Lawrence was airlifted to a Kansas City-area hospital.
According to a witness who arrived at the scene shortly after the accident, emergency crews worked to free the man, who was stuck in an overturned pickup truck on Kansas Highway 32, near the intersection of U.S. Highway 24-40 in northeast Douglas County. Emergency dispatchers received the call about the accident around 3:15 p.m.
Check LJWorld.com for updates as they become available.
Copyright 2018 The Lawrence Journal-World. All rights reserved. This material may not be published, broadcast, rewritten or redistributed. We strive to uphold our values for every story published.