Photo Gallery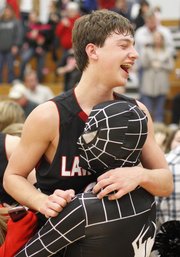 Lawrence High boys vs. Olathe South
Olathe — When leading scorer KJ Pritchard hobbled off the court for good in the third quarter Wednesday, nobody on the Lawrence High bench panicked.
Instead, the eighth-seeded Lions took it to top-seeded Olathe South, securing a stunning road upset in overtime, 47-44.
"KJ got hurt, and we all stepped up and played really well," junior Anthony Buffalomeat said. "We came in knowing we had a chance, and we just played hard. And we won."
After two free throws by junior Logan Henrichs with 1.4 seconds remaining in overtime, Olathe South's Noah Knight caught the inbounds pass and launched a 50-footer that would have tied it.
At first, Henrichs thought the shot was way off. He looked back and watched as the ball ricocheted off the rim.
LHS coach Mike Lewis never doubted his team's ability to win, even after Pritchard simply couldn't play well on the right ankle he sprained in the second quarter.
Pritchard tried to play on it after halftime, but he didn't have much mobility.
Lewis trusted his bench.
"We had told everybody to be in the moment," Lewis said. "If your number gets called, know what we're doing. Be in the moment and don't be nervous. Be excited."
Sophomore Jake Mosiman and freshman Bryce Montes de Oca played big roles in the victory. Mosiman helped handle the ball at the end of regulation, and Montes de Oca blocked three shots in the final 10 minutes.
"Those guys, no doubt, were in the moment," Lewis said.
Henrichs finished with 22 points, 15 in the second half and overtime. He also hit two huge three-pointers to pull the Lions back from a seven-point deficit late in the third quarter.
Henrichs said that those two shots swung the momentum back toward the Lions.
"When we hit shots, we play a lot better on defense," Henrichs said.
The Lions had a shot to win the game in regulation, but Buffalomeat's 25-footer at the buzzer missed to the right.
LHS (8-13) seized a 45-41 lead in overtime and held off the Falcons (17-4) to finish the upset.
"I think that was the most jacked we've been all season," Buffalomeat said.
Lewis also cited his bench's energy as key in the victory. The seniors on the team didn't play much in the second half, but Lewis said he heard their voices during every timeout.
Pritchard was also involved, often being the first one high-fiving teammates after a timeout was called.
"It takes a full team effort to get it done," Lewis said.
The Lions will play fifth-seeded Leavenworth (15-6) at Olathe North at 5:30 p.m. Friday for an opportunity to go to the state tournament. Lewis said Pritchard should be able to play.
Box score
Lawrence 47, Olathe South 44
LAWRENCE (47)
KJ Pritchard 2-8 2-2 8, Shane Willoughby 1-2 3-5 5, Anthony Buffalomeat 3-7 0-0 6, Logan Henrichs 6-8 6-7 22, Jake Johnson 0-1 1-2 1, Ross Johnson 0-0 0-0 0, Derby Miller 0-0 0-0 0, Jake Mosiman 0-1 0-0 0, Trent Edwards 0-0 0-0 0, Garrett Wagner 0-1 0-0 0, Bryce Montes de Oca 1-1 1-1 3, Brad Strauss 1-1 0-0 2. Totals 14-30 12-16 47.
OLATHE SOUTH (44)
Sage Ruis 1-4 0-0 3, Charles McAllister 1-7 3-6 6, DJ Cole 5-9 1-2 13, Kameron Lindsay 0-6 2-2 2, Tyler Thomas 3-4 0-0 6, Noah Knight 3-5 1-2 9, David Nelson 1-2 0-0 3, Drew Johnson 1-1 0-0 2. Totals 15-38 7-12 44.
Lawrence 10 11 11 8 7 — 47
Olathe South 8 11 14 7 4 — 44
Three-point goals: Lawrence 7-12 (Henrichs 3, Pritchard 2); Olathe South 6-19 (Knight 2, Cole 2, McAllister, Ruis). Shooting: Lawrence 14-30 (46.7 percent); Olathe South 15-38 (39.5 percent) Turnovers: Lawrence 13, Olathe South 8.
Copyright 2018 The Lawrence Journal-World. All rights reserved. This material may not be published, broadcast, rewritten or redistributed. We strive to uphold our values for every story published.