Groovability
For donation inquiries or other questions, contact founder and executive director JoAnne Fluke at jojopooh76(at)yahoo.com.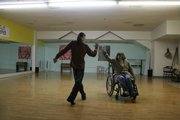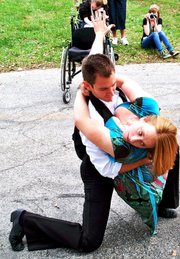 Lawrence resident Lorraine Cannistra, a former Ms. Wheelchair Kansas, became involved with Kansas City non-profit Groovability in 2008 after seeing one of the group's performances at the pageant.
"When I saw it, I cried," she said. "I didn't realize wheelchair users could dance like that and I to do it. Now when I dance, all the labels and limitations that other people put on me because of my disability, because of what I could and couldn't do, simply disappear. It's challenged my thinking as to what lies ahead of me, because what's possible for me now has grown by leaps and bounds."
Groovebility is a wheelchair ballroom dance company that is made up of wheelchair users and non-disabled instructors. Together they design choreography to songs and then dance at competitions and pageants, such as the Ms. Wheelchair America pageant.
"When I dance, all the labels and limitations that other people put on me because of my disability simply disappear," Cannistra says.
Although they are invited to several events each year, the group is always in need of additional funding to travel because of the special needs the group has.
"We have various competitions coming up," she says. "Our next one is in August in Kansas City and we need money for the entry fees for the competitions and equipment and various things like that. We have lots of invitations to go places, but the cost of travel (is prohibitive)."
JoAnne Fluke, executive director of Groovability agrees that funding is always a constant concern for the organization. She says the group has a major fundraising event in October called Dance-a-thon and the group is hoping to unveil a new website in the coming months.
"Most of our donations go into a scholarship and that is used to help with competition costs," Fluke says. "Our dancers go to national ballroom competitions and perform. It offsets that cost and traveling expenses. In the near future, we're hoping to get our dancers better wheelchairs to perform in."
Fluke, who suffers from Caudal Regression Syndrome, founded Groovability, making it a non-profit in 2007. She says the original idea came to her after she noticed wheelchair-bound people were having trouble adjusting to life after high school.
"I realized that individuals have transition years," Fluke says, "like let's say right after high school into becoming a young adult. Unless they have a really good social group, they seem to not be as active. I wanted to provide an opportunity for people within that age group to be able to exercise, socialize and really just to have fun."
Fluke says the group is not exclusively for younger adults. She says the main goal of Groovability is to facilitate better relationships between people.
"Our age range is usually out of high school, but we've had dancers in the past that were in the 40s and 50s. That's what's really cool about Groovability, that all of those barriers seem to break down — the age barriers, the physical challenge barriers, the barriers between the disability community and the non-disability community."
Fluke says she enjoys working with Groovability and that the work the group does makes a genuine difference in people's lives.
"I will tell you," Fluke says, "the best part of being involved is being able to give individuals this opportunity. When they realize they can do anything they put their minds to it. I've seen a lot of our dancers' confidence shoot up immensely. It's amazing to see people who don't have disabilities dancing with people in wheelchairs and they start to feel more comfortable. It's like all of the disabilities melt away. It's pretty darn cool."
Copyright 2018 The Lawrence Journal-World. All rights reserved. This material may not be published, broadcast, rewritten or redistributed. We strive to uphold our values for every story published.