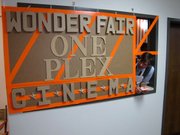 Past Event
When: Thursday, July 28, 2011, 6 p.m.
Where: Spencer Museum of Art, 1301 Miss., KU campus, Lawrence
Cost: Free
-->
-->
Aiming for a bit of the silly and the sublime, the members of Wonder Fair, 803 1/2 Mass., have taken up residence in the Spencer Museum of Art's bookstore, 1301 Miss.
The artists have modified the space, transforming it into a movie theater of sorts, complete with a popcorn machine, for the Our Tube Summer Viewing Program, a videographic mishmash of artistic styles and genres. Total, the project will have four exhibition dates, the second of which runs Thursday with 6 p.m., 6:30 p.m., 7 p.m. and 7:30 p.m. showtimes. There will also be presentations on August 11 and August 25 at the same times. Admission is free, but seating is limited.
Eric Dobbins, founder of Wonder Fair, says the group is excited to be working with the Spencer on this video project. He outlines this project as a rotating series of artistic techniques, with each of the collective's four members trading disciplines for each show.
For each iteration of Our Tube, one Wonder Fair member, the curator of the show, finds a video off of YouTube to present. Then another group member creates a reimagined version of the video, drawing upon personal experiences. A third member critiques the original video clip seriously, with an air of academia, while a fourth person creates artwork for the show, merchandising off of the original video.
"There's four different elements to each part," Dobbins says. "We liked the idea of using YouTube as an artistic medium. We hadn't done videos as a group before. We've been making prints and making T-shirts and doing gallery shows, but we hadn't worked on a video project yet. Initially, we thought we could do screenings of interesting films in the bookstore, but then one thing led to another and we wanted to screen weird YouTube videos. We thought it was important that we should create something."
Dobbins says he's interested with the idea of rotating the collective's artists into roles that they're not familiar with, stretching themselves out of their comfort zones.
"I think part of the intrigue for me is that each part of this summer viewing program is different. That's exciting to me, seeing what material they come up with and to see where the other artists involved with this project end up, what material they pull from and what ideas they come up with."
The overall feeling of the first show, on July 7, was humorous, as the group displayed a hip-hop video of questionable quality by the artist Bangs, and then transmogrified it into an equally questionable instructional video about bird calling.
"As far as an enjoyment level, you need a sense of humor, an awareness of YouTube and how it operates would be helpful," Dobbins says. "The first one was more fun and lighthearted and silly. Our next one will be more serious. I think it kind of changes throughout the summer, depending on the initial curated video. This has the potential to have something for everyone. YouTube is a vast source of content and material, so when you stick your hand inside of that jar, you're not really sure what you're going to pull out."
Wonder Fair member Kelly John Clark says the critique of the videos, the serious side of the show, is just as important as the hilarity of watching horrendous pop culture. Clark says the show feels more fleshed out with a critical examination of the video on display.
"We thought we needed to have some piece of this structure that is somewhat serious, (to show) that we're actually giving this a lot of thought," Clark says. "This is where we talk about, ideally, in a dead-pan way, why the initial video is good or important culturally. We give it a critical reading as an artist."
Clark stresses this event is interesting not only as a comedic summer distraction, but also because it is serious art.
"If I wasn't involved I would still want to know what was up, because the Spencer has their fingers all over this. It's also summer, and that's the time to sit with friends and watch movies — and that's what this is. It's a short, funny little movie. You'll be entertained. It's a chance to go see something funny with your buddies. We're all pretty interesting people; we love our community. This is our chance to do something fun — fun for our community."
Jason Barr, Wonder Fair member and curator of the first show in the summer series, says he enjoys how this project approaches the idea of art. He says the goal with Our Tube is for the Wonder Fair members to develop thought-provoking art while not feeling too pretentious about what art should mean.
"People should, when they come to this show, they should expect to have sort of a quirky approach to even what art is. We're not putting pictures up on the wall. This isn't something you could consume on an art walk. I've never heard of anyone taking this (specific) idea. Also, this isn't completely tongue-in-cheek. That's a problem with a lot of artists our ages and people associated with counter culture. They're too self-aware and too cool for their own good and it comes down to something that's a detriment. I think people will get the best of both worlds in this situation."
Barr says Wonder Fair, with fourth member Lee Piechocki, hopes audiences enjoy this visual romp through the Internet's dark side. He says he's excited about the shows and the group's novel ideas behind them.
"It's a weird opportunity to go in there and do this thing," Barr says. "We're taking over a gift shop — we're literally reimagining a space and we're the first to do it. Hopefully, we can create some thought-provoking art that can be young and vibrant. This situation, it was the perfect chance. I now wish we'd always been doing art this way, so we could get the experience in areas that we're not tuned in to."
Copyright 2018 The Lawrence Journal-World. All rights reserved. This material may not be published, broadcast, rewritten or redistributed. We strive to uphold our values for every story published.