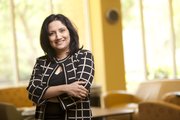 It's been a lot of meeting and greeting so far for Kansas University's new business dean as she prepares to officially start work next week.
But Neeli Bendapudi is already on campus, and the people she's met say the best word to describe her is "enthusiastic."
She's eager to meet faculty, students and staff, and said she wants to be open and accessible to each of them.
On her calendar already are 12 trips in the coming months to visit with donors and alumni, too. She'll travel within the state at first, but also to places like Chicago, San Francisco, New York and Dallas.
"I believe in reaching people where they are," she said.
She'll be reaching students where they are, too. She said she plans to invite a few of them to The Wheel for a discussion, after hearing from a newly hired recent KU graduate that students often hang out there.
Bendapudi has a few other issues to tackle, too. She said she'll be continuing to work on raising funds for a new building for the school. KU is preparing for a public launch of a new fundraising campaign, and the provost and chancellor have backed the effort, she said.
A potential site for the building has been identified northeast of the Chi Omega Fountain, near Potter Lake and Carruth-O'Leary Hall.
"I want the building to be a reflection of the greatness that's already here," she said.
Still, it's not the walls that make a place, she said, and the school will continue to move forward.
During her first few days on campus, she's been meeting with professors and staff members and using Twitter to send out updates on the professors' research and other projects.
It's a way to combat the old joke about being a professor, she said. Someone asks about the three best things about being a professor.
"June, July and August," she said, adding that she hoped to dispel that perception as much as possible.
She's also met with people outside the school, taking time to eat lunch with all the assistants to deans across the Lawrence campus, who meet a few times a year.
There, attendees of the lunch said, she spent an hour with the group, and was interested in both their personal lives and advice she could pick up from how their respective deans did business.
"She really, sincerely wanted our input," said Anne Sawyer, assistant to the dean of the College of Liberal Arts and Sciences. "She was very open and approachable. I think the business school has just scored a coup."
Bendapudi said she's eager for the full complement of students to arrive next month.
"I feel like I'm ready to throw a party and I'm waiting for my guests to arrive," she said.
Copyright 2018 The Lawrence Journal-World. All rights reserved. This material may not be published, broadcast, rewritten or redistributed. We strive to uphold our values for every story published.