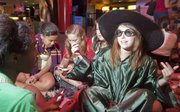 Harry Potter fans young and old came in costume by the hundreds to Southwind 12 theaters in south Lawrence to catch one last glimpse of the wizard's fantasy world.
They were biding their time in the theaters an hour before the midnight showings of "Harry Potter and the Deathly Hallows: Part 2" began.
People were playing cards, watching the old movies on laptops and enjoying being around other fans.
"I'm from Ravenclaw," said John Stephan, 21, of Lawrence, showing off the blue on his tie peeking out above his wizarding robe to prove it. "And she's from Gryffindor," he said pointing to his girlfriend, Kate Steir.
"I've been reading the books since the third grade," Steir said. "It's something I feel like I can really share with a lot of people."
And as for the movie theater staff trying to deal with enough customers to sell out seven screenings of the film?
"Hectic. Crazy. Happy to see everyone," said a hurried Jon Ratzlaff, the theater's manager, who was back behind the concession stand dumping ice into soda machines with his staff.
Rhiannon Pearson, a 17-year-old from Lecompton, came to one last midnight showing with her mother, Vauncele Pearson. The pair had seen all the other movies at midnight, too.
But unlike many others at the theater at midnight, Vauncele was particularly excited to see this last movie because she hadn't read the books.
"So I have no idea what happens," she said. "No idea."
Copyright 2018 The Lawrence Journal-World. All rights reserved. This material may not be published, broadcast, rewritten or redistributed. We strive to uphold our values for every story published.