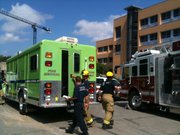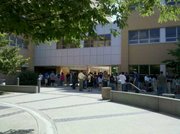 Lawrence Douglas County Fire and Medical crews did not locate any hazardous material after a student reported a sulfur-like smell in a lab at Learned Hall Thursday morning.
Kansas University officials evacuated and closed the engineering buildings of Learned and Eaton halls for nearly two hours as crews searched the building.
"Standard operating procedure when there's a hazardous material incident is to ensure that the air is safe in all buildings that are affected," KU spokeswoman Jill Jess said. "Those are both big buildings so it took awhile just to make sure that everything was OK."
Jess said air monitoring in both buildings detected zero airborne contaminants in either building, and the odor's source was undetermined.
The student at 10:30 a.m. in the first-floor lab made the report and also felt ill. The student was treated at the scene, Jess said.
Kevin Morgan, a graduate student at KU starting in the fall, said he was in the Formula SAE lab when he and others began smelling a "rotten egg odor." He said one person became ill from the smell, which caused their supervisor to call 911.
Naismith Drive was closed between Crescent Road and Irving Hill Road in order to give fire crews room to work, but reopened shortly after 1 p.m.
KU officials called 911 and used the buildings' alarm systems to get students and staff members who were there as part of summer school to evacuate, Jess said.
Yong Bai an associate professor of civil, environmental and architectural engineering, said he was working in the office and heard the alarm.
"I didn't think it was smart to stay there," Bai said.
Jess said KU officials did not use the university's text alert system.
"There was no immediate threat to campus," she said.
KU did post information to its alerts website mainly encouraging people to avoid the area because traffic would be backed up.
Lawrence Douglas County Fire and Medical and KU Public Safety officers investigated the buildings.
Copyright 2018 The Lawrence Journal-World. All rights reserved. This material may not be published, broadcast, rewritten or redistributed. We strive to uphold our values for every story published.